This is a fun cookie recipe incorporating bacon, bourbon and chocolate. It's unique and delicious!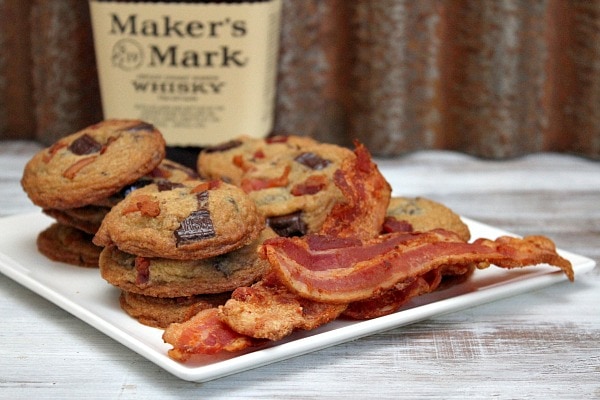 One of the fun things about our new house is that the previous owners built an entertainment area over the garage. I took one look at it and said, "I want this house!" We really love to have friends over and entertain, so it was a big, big draw. There is a large bar, a pool table and a small dance floor. My husband has been renovating it since we moved in to give it a rustic Tahoe feel. We had neighbors over recently, and one of our older friends requested a glass of Maker's Mark Whisky. We're not typically whisky drinkers in our house, so we had to tell him we didn't have any. The very next day, I (coincidentally) received an email from the folks at Maker's Mark, sharing a cookie recipe from their recipe collection.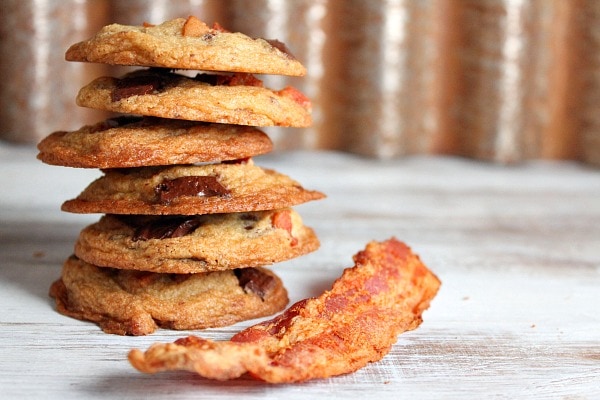 Well, I had a little back-and-forth chat with them, and they ended up sending me a bottle to sample. We were happy to add it to our bar so future guests can enjoy Maker's Mark. And I was thrilled to use it to make these Bacon- Bourbon Chocolate Chunk Cookies! I adapted the recipe slightly, but I'm sure the result was just the same.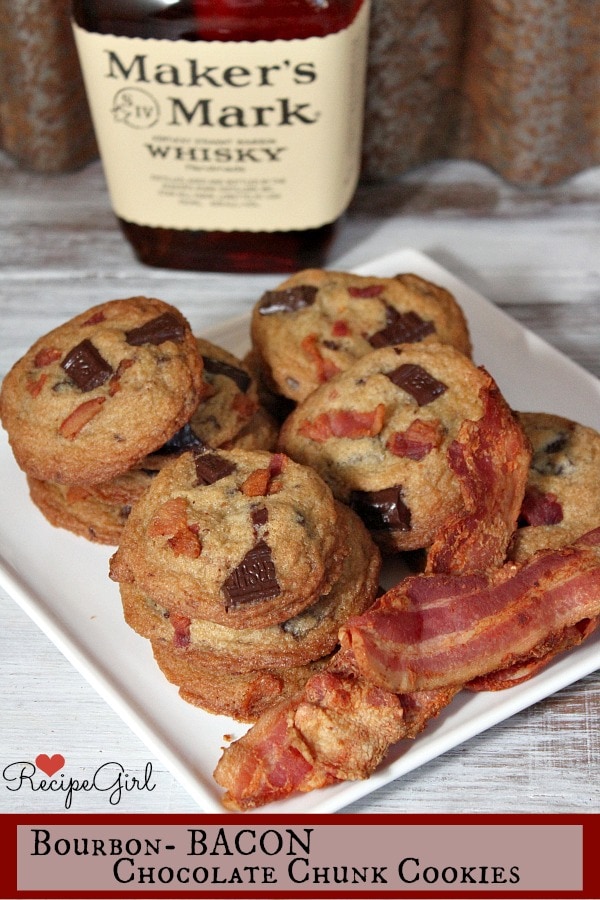 My husband says, "They're a total score!" You can definitely taste the bacon in there since you use some of the bacon fat as part of the fat in the recipe. My son took some to school and said that he barely got to eat them because his friends were all fighting over his BACON COOKIES!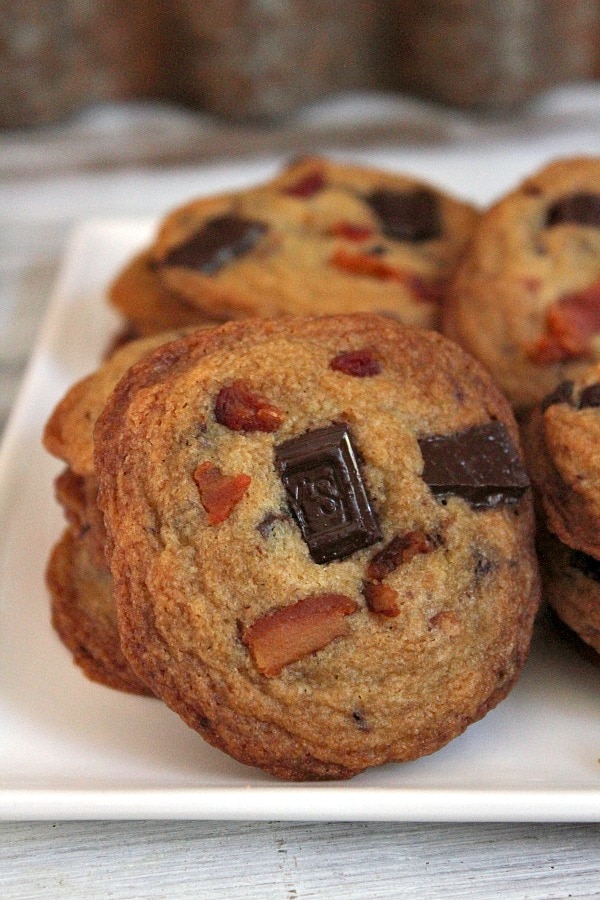 The alcohol burns out in the baking process, so you don't need to worry about whether or not you should be serving these cookies to kids. Everyone can eat them! Thanks to Maker's Mark for the sample whisky. We really enjoyed the recipe! It was my first time making bacon cookies, and you know what?? Bacon cookies are a very good thing indeed!
Bourbon- Bacon Chocolate Chunk Cookies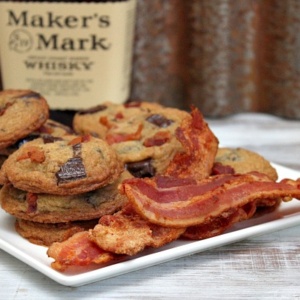 Yield:
About 4 dozen
Prep Time: 30 min
Cook Time: 9 min
Ingredients:
3/4 pound center cut thick bacon, 1/2-inch diced
2 1/2 cups Gold Medal® All-Purpose Flour
1 teaspoon baking soda
1 teaspoon salt
1/4 teaspoon baking powder
1/2 cup unsalted butter, at room temperature
1/2 cup reserved bacon fat, chilled
3/4 cup granulated white sugar
3/4 cup packed brown sugar
3 Tablespoons Maker's Mark® Bourbon
1 teaspoon vanilla extract
2 large eggs
8 ounces dark chocolate, chopped (I used Hershey's dark chocolate bars)
Directions:
1. In a large skillet, cook the bacon until the bacon pieces are golden brown and crisp. Remove the bacon from the skillet and onto a plate lined with paper towels to drain. Reserve the bacon fat in the pan. You'll need 1/2 cup of the bacon fat- spoon it into a 1/2 cup measuring cup and refrigerate it until it has solidified.
2. Preheat the oven to 375 degrees F. In a medium bowl, whisk together the flour, baking soda, salt and baking powder. In a separate large bowl, use an electric mixer to combine the butter, bacon fat, sugars, bourbon and vanilla. Mix in the eggs, one at a time, until well combined. Beat in the flour mixture. Then stir in the bacon and chocolate (hint: if you want your cookies to look really pretty, save a few bacon and chocolate pieces to add to the top of each cookie dough blob before baking). Drop by rounded tablespoonfuls onto parchment or silpat-lined baking sheets- about 2 inches apart.
3. Bake 9 to 11 minutes, or until the cookies are lightly browned. Let stand on the cookie sheets for about 5 minutes, then remove the cookies to a cooling rack to cool completely.
4. Store cookies in an airtight container for up to 5 days, or store in a covered container or zip bag in the freezer for up to 6 weeks.
Tips:
*Don't try to use turkey bacon for this recipe- ick.
Source:  RecipeGirl.com (adapted from Maker's Mark)
You may enjoy more recipes using Maker's Mark on the blogs:
Bourbon- Soaked Dark Chocolate Bundt Cake by We Heart Food
Boozy Smashed Sweet Potatoes by Bell'alimento
New Orleans Bourbon Bread Pudding with Bourbon Sauce by Ezra Poundcake
Milk Punch by Smitten Kitchen
Disclosure:  I received a bottle of Maker's Mark Whisky to sample and they shared this cookie recipe with me, but this is not a sponsored post.  All opinions about this product are my own.