Whenever I mention "Chocolate Chip Cookies," this recipe seems to come up in the conversation. I've been making chocolate chip cookies all of my life, and am always happy to add new ones to my repertoire. I've made them with various kinds of flours, different types (and sizes) of chocolate, some with nuts (or cocoa nibs), and others without. In some cases, the salt in the chocolate chip cookies may be in the butter, or sprinkled on top. Or there might be a double-dose of chocolate in them.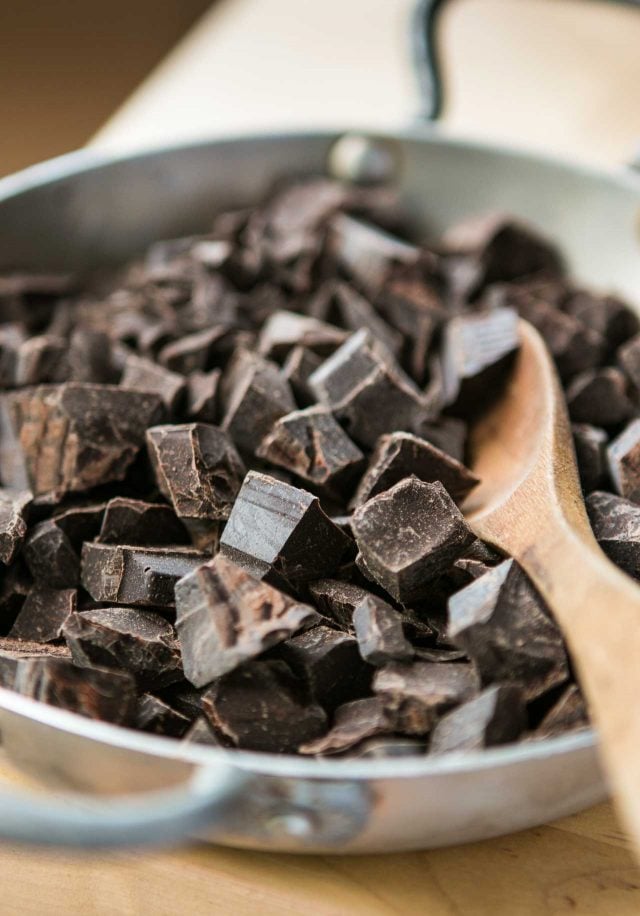 But I haven't done too much tinkering with the butter, because to me, that's one thing that's non-negotiable in chocolate chip cookies. But when I heard about tahini, my loyalty to butter was put into question.
You (and I) can relax, because these chocolate chip cookies do use butter, but get an underlying richness from sesame paste, a common ingredient in Middle Eastern cooking that I always keep on hand. So although I thought I'd done everything possible that a man could do to a chocolate chip cookie, and then some, I was finally ready to tackle a batch of these chocolate chip cookies.
The recipe is adapted from Modern Israeli Cooking by Danielle Oron, that also was in the New York Times. In addition to having everything on hand, they were easy to mix up, and the soft sesame paste made a dough that was hard not to snack on before the cookies went into the oven.
I prefer to chop chocolate for chocolate chip cookies, rather than use conventional chocolate chips. I have nothing against chocolate chips, but most are made of what's called baking-resistant chocolate, which is designed to hold their shape once baked. I like big, oozing chunks of chocolate in my chocolate chip cookies, and I don't care so much what they look like, so much as how they taste.
So I took a knife to a block of chocolate and made my own. Some makers are now producing what are called chocolate "chunks" which may or may not have similar qualities, but chopping a block of chocolate, while a bit messy, puts me in one of my happy places. And I'm happy to make my own chips, or chunks, I should say.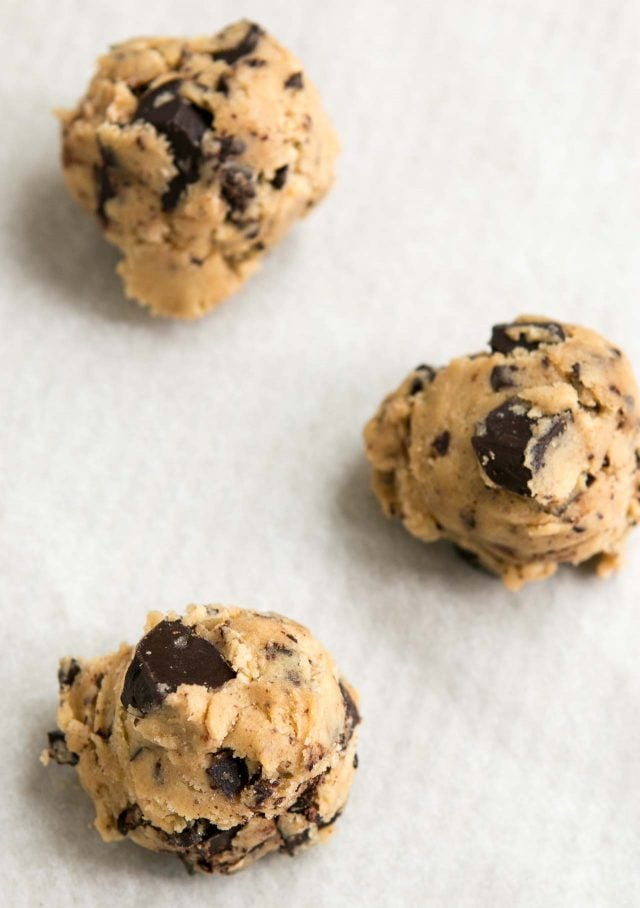 These cookies were some of the best chocolate chip cookies that have ever come out of my oven, and I don't say that lightly. The tahini gives them a gentle savory taste, with a faint musky flavor that pairs remarkably well with dark chocolate and a touch of salt, so don't be afraid to use a very strongly flavored chocolate. I futzed with the original recipe a little, to make them chewier, and couldn't resist adding even more chocolate. But can you blame me?
| | |
| --- | --- |
| Salted Chocolate Chip Tahini Cookies | Print Recipe |
Adapted from Modern Israeli Cooking: 100 New Recipes for Traditional Classics by Danielle Oron. I used chopped chocolate, rather than chocolate chips, for these cookies since I wanted large chunks of oozing chocolate rather than little bits of chocolate here and there. (But feel free to use chips if you'd like.) Normally when I chop chocolate for cookies, I add any small bits and pieces on the cutting board along with the bigger chunks. But for these, I wanted distinct, more assertive pieces of chocolate, so I sorted through and just used large chunks, saving the smaller bits for another baking project. I baked these cookies in a larger size, then tried them in smaller portions, and give baking times for each. Whichever size you bake them in, since everyone's oven is different, it's important to use visual clues rather than rely on precise minutes and numbers to tell when they're done. Keep an eye on them during the final minutes of baking; the cookies are done when quite pale in the center and browned around the edges. Note that the dough is best when it rests in the refrigerator overnight. You could bake them sooner, if you just can't wait.
8 tablespoons
(115g, 4 ounces)
unsalted butter,
at room temperature
1/2
cup (120ml)
tahini,
well stirred
1/2
cup (100g)
granulated sugar
1/2
cup (90g)
packed light brown sugar
1
large
egg,
at room temperature
1
teaspoon
vanilla extract
1
cup plus 2 tablespoons (150g)
flour
1
teaspoon
kosher or sea salt
2
cups (280g)
bittersweet or semisweet chocolate chunks,
or chocolate chips
flaky sea salt,
such as Maldon or fleur de sel
1. In the bowl of a stand mixer, beat the butter, tahini, granulated sugar and brown sugar on medium speed for 2 to 3 minutes, until fluffy. (The dough can also be made in a large mixing bowl, stirred with a spatula.)
2. Stop the mixer and scrape down the sides. Add the egg, the yolk, and vanilla, and continue to mix for another minute, stopping the mixer to scrape down the sides of the bowl during mixing, to make sure the eggs are getting incorporated.
3. In a small bowl, whisk together the flour, baking soda, and kosher or sea salt. With the mixer on low speed, add the dry ingredients until just combined, then add the chocolate chips. Do not overmix. Cover the dough and refrigerate overnight.
4. Preheat the oven to 325ºF (160ºC). Line two baking sheets with parchment paper or silicone baking mats.
5. Form the cookies into rounds using an ice cream scoop, or your hands. For small cookies make each 1 1/2-inch (3,5cm), for larger cookies, make them 2-inches (5cm) round. Place them evenly spaced on the baking sheets, 3-inches (8cm) apart). Bake one sheet at a time, so you can keep an eye on them, in the middle rack of the oven.
6. Bake the cookies, turning the baking sheet in the oven midway during baking, until the cookies are golden brown around the edges but still pale in the center. For small cookies, about 12 minutes, for larger cookies, about 14 to 15 minutes. Remove from the oven, sprinkle cookies with a bit of flaky sea salt, and let the cookies cool on the baking sheet. Bake the remaining cookies the same way.
Storage: These cookies will keep for two or three days at room temperature, but are definitely better the same day they're baked. The unbaked dough can be refrigerated for up to one week, and frozen for up to two months.
Notes: Nut and seeds butters, such as peanut and almond, have different oil content than tahini, and I don't think they could be swapped out. (If you do try it with another nut or seed butter, let us know how they come out in the comments.) For those looking for a chocolate chip cookie without tahini, check out these Salted Butter Chocolate Chip Cookies or my recipe for Chocolate Chip Cookies in Ready for Dessert.
Related Posts and Recipes
Salted Chocolate Chip Cookies
Tahini and Almond Cookies
Baking Ingredients and Substitutions
How to Make Tahini
Ingredients for American Baking in Paris
Soom Tahini (Amazon)
Gluten-free baking and Substitutions