Hi friends new and old! I'm joining some of my favorite and talented blogging friends today for a Christmas Cookie Swap! If you are visiting from Sarah from Our Vintage Farmhouse – welcome!! Isn't Sarah's farmhouse so dreamy?! I admire her gorgeous farmhouse and the bond she shares with her sweet daughter.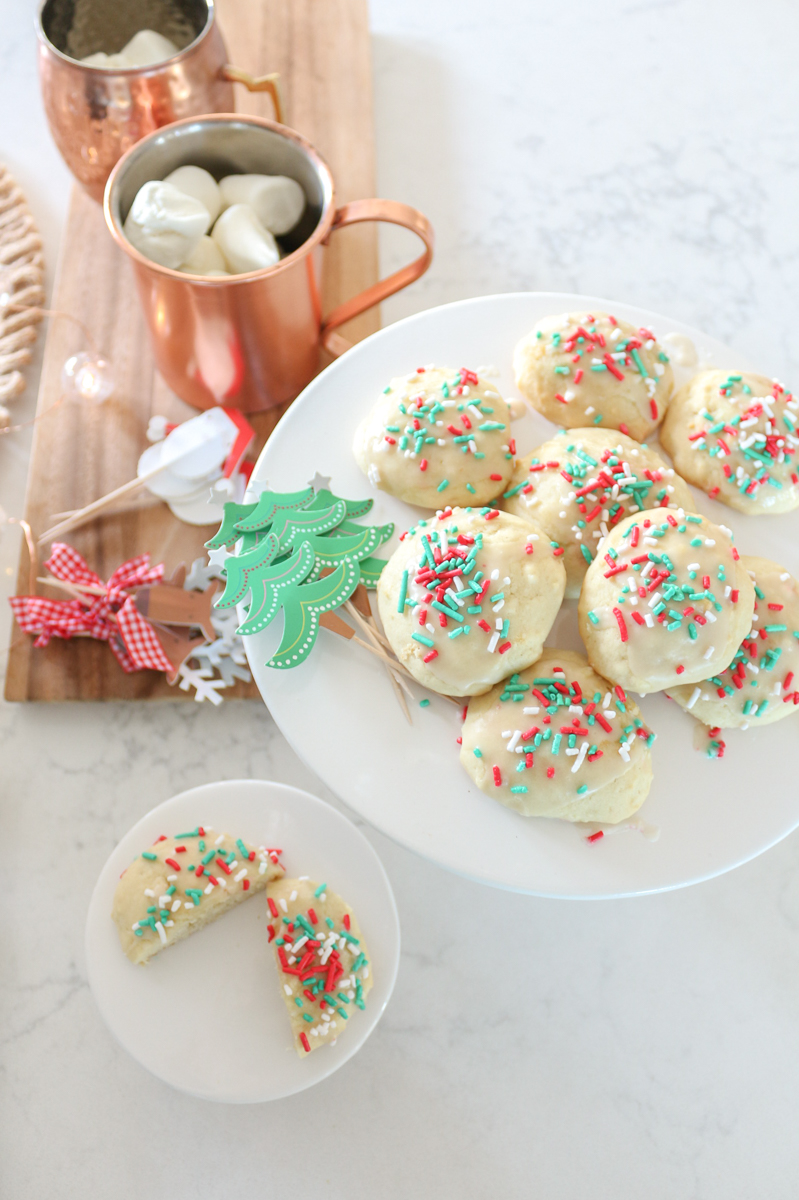 The cookie I'll be sharing for our Christmas Cookie Swap is very special to me – it's my grandma's Italian Drop Cookie recipe. Growing up with an Italian grandmother was the absolute BEST! My grandma and I were very close and the bond we shared was so special.
Her cooking was filled with love and I will never forget her kind, generous, and caring ways. In the past I've shared her recipes here on the blog, like her amazing Calamari and delicious Pizzelles – you can find those recipes by heading here,  here.
My mom recently found my grandma's old recipe box. It had been tucked away in some boxes that hadn't been unpacked yet from their last move.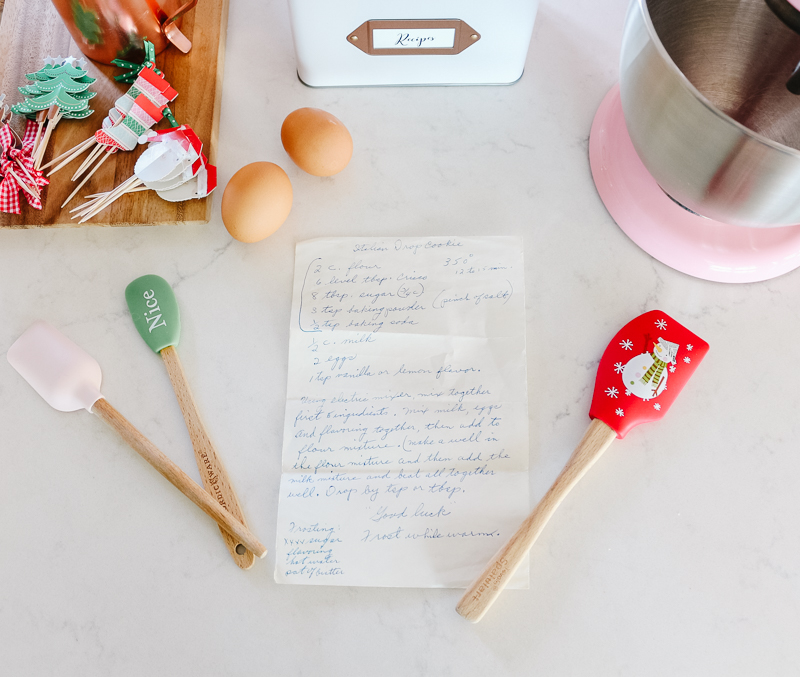 I was so excited to find this recipe because I remember her making them and they were one of my favorites! Seeing her handwriting gave me all the feels. At the end of the recipe she wrote "Good Luck" — oh Grammie how I miss you so! And yes I called her "Grammie" and there isn't a day that goes by that I don't miss her.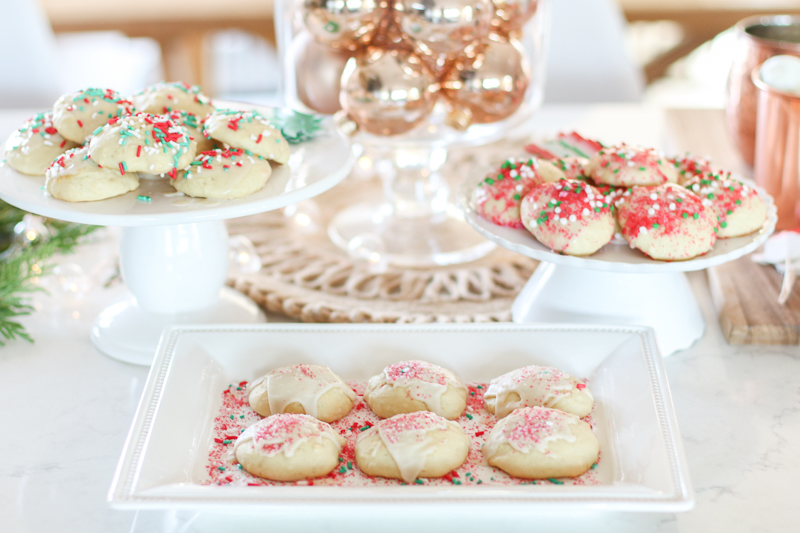 Christmas Cookie Traditions
This cookie is in honor of my sweet Grandma and for my girls so they'll always have a piece of their great grandma here documented on my blog. With her recipes, Italian heritage and special traditions we hold dearly in our hearts we honor her today and the amazing person she was…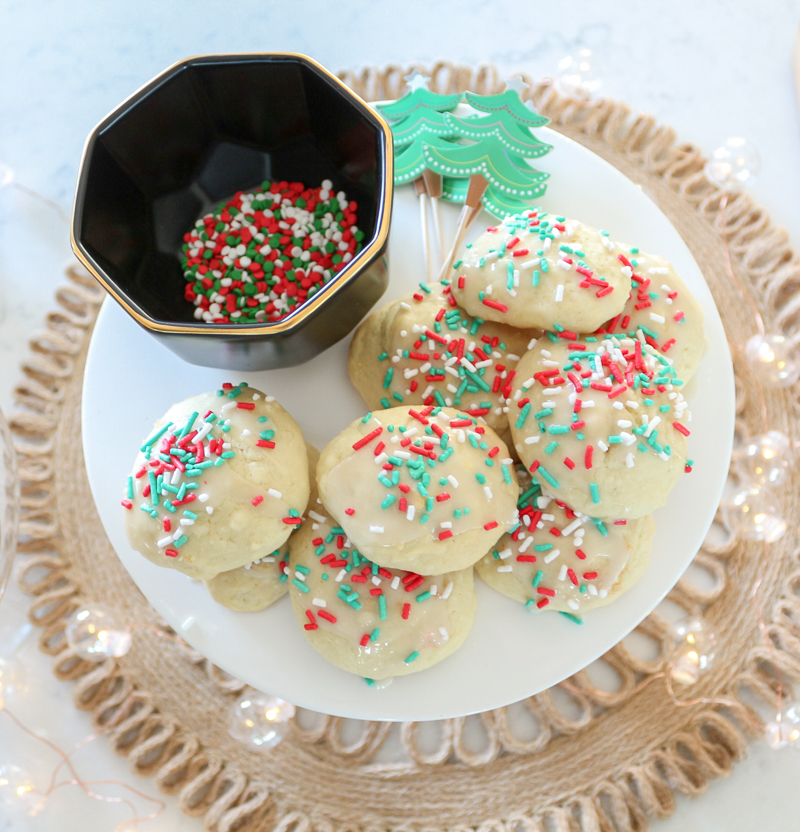 One of my favorite ways to bond with my girls is to bake yummy treats with them. Christmas cookies are a big favorite in the Light house and I'm so glad we are carrying on a tradition with my grandmother's Italian Drop Cookies and making new memories – exactly what the holidays is all about!
Here's a pic without the festive decorations – you can make these year round which I love and add your own finishing touches!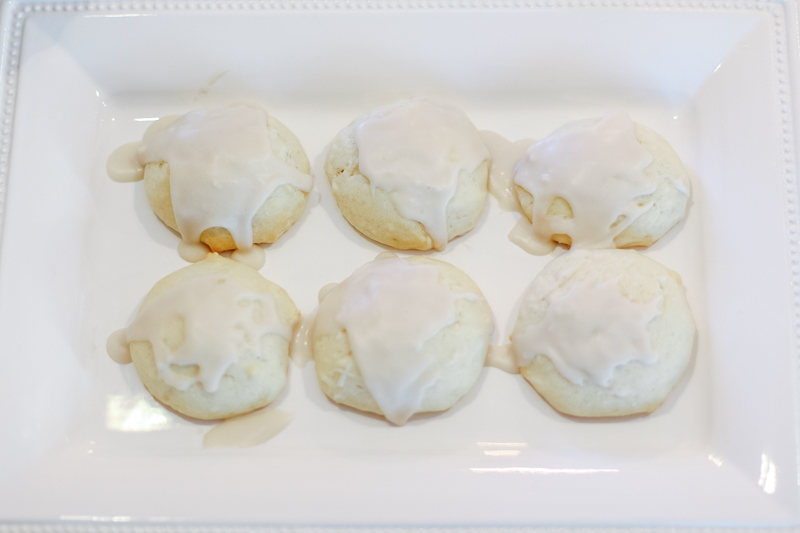 A Cookie that Goes with Everything
If you are looking for a cookie that is light and goes with just about everything – from a cup of coffee or afternoon tea to holiday gatherings, cookie exchanges/swaps and even one Santa is sure to love – than this cookie is for you!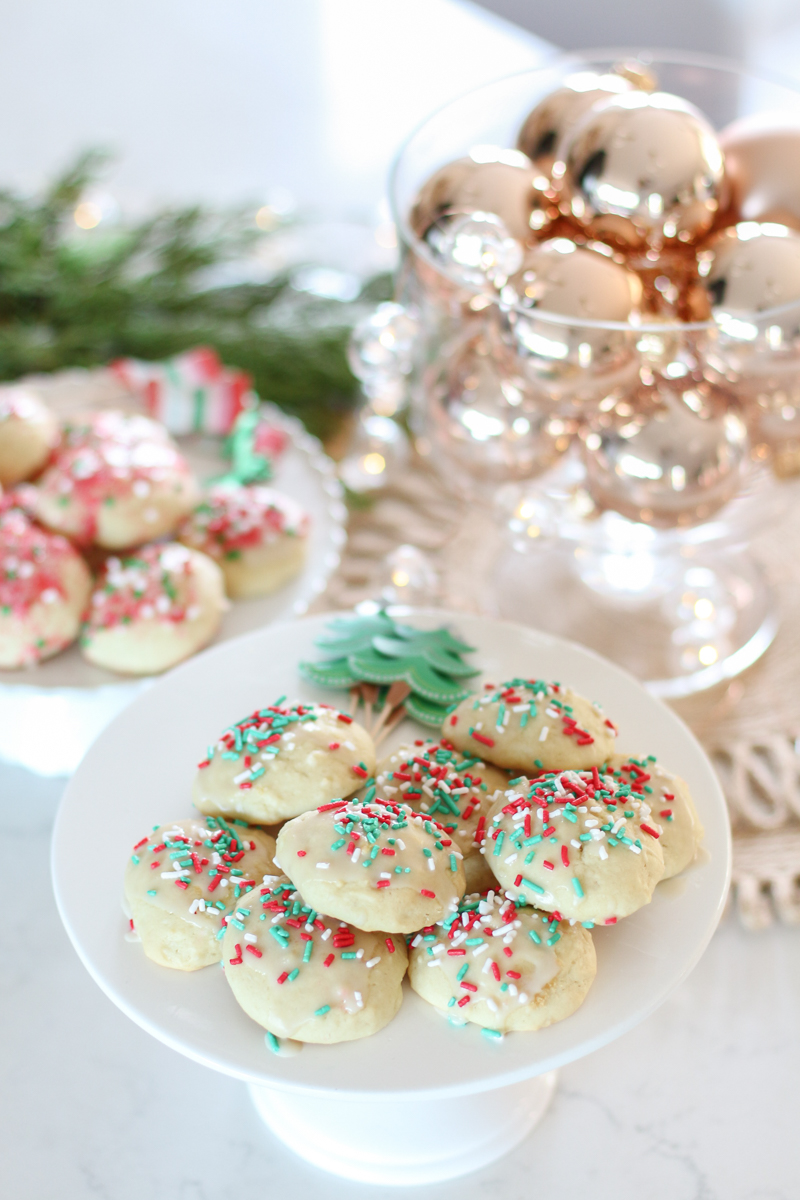 Easy to Make
Italian Drop Cookies are super easy to make. I'm sharing my recipe tips below along with all the go-to baking items. For example, my pink mixer – it's a must for baking and I'm not sure I waited so long to buy one. I've had mine for a couple of years now and it makes life so much easier when I bake!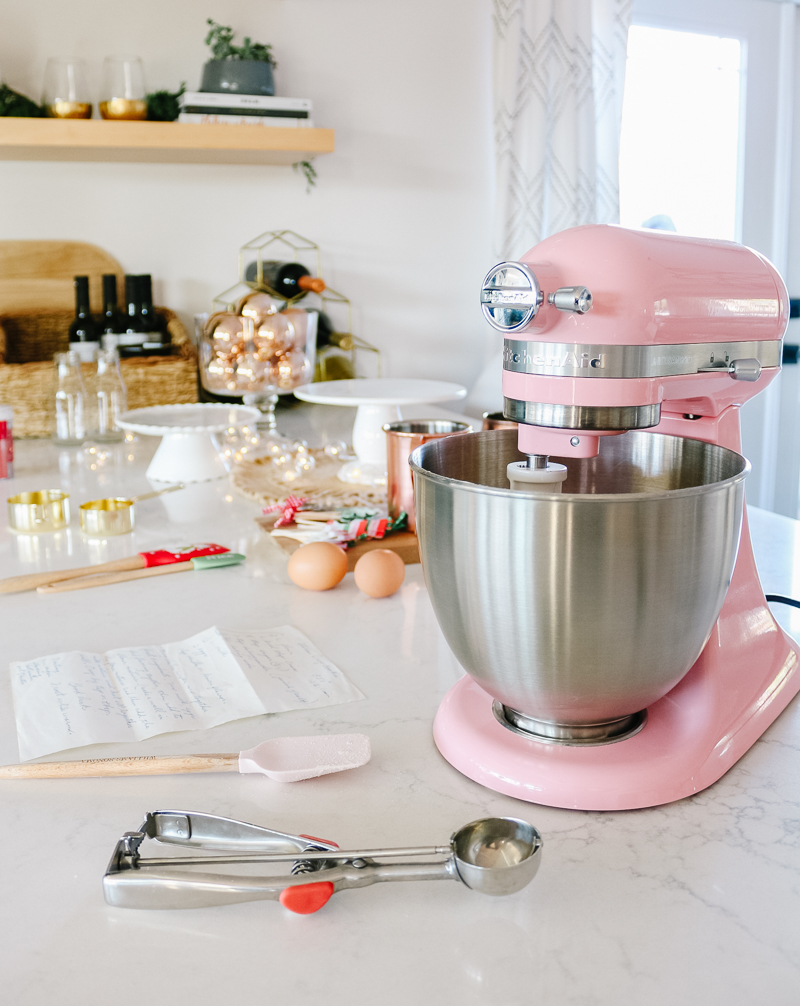 Grandma's Italian Drop Cookies
*Preheat oven to 350 degrees.
Using an electric mixer combine 2 cups of flour, 6 level tbsp. of Crisco (or you can substitute the Crisco for 8 tbsp or butter like I did), 3/4 cup of sugar, 3 tsp of baking powder, 1/2 tsp of baking soda & a pinch of salt!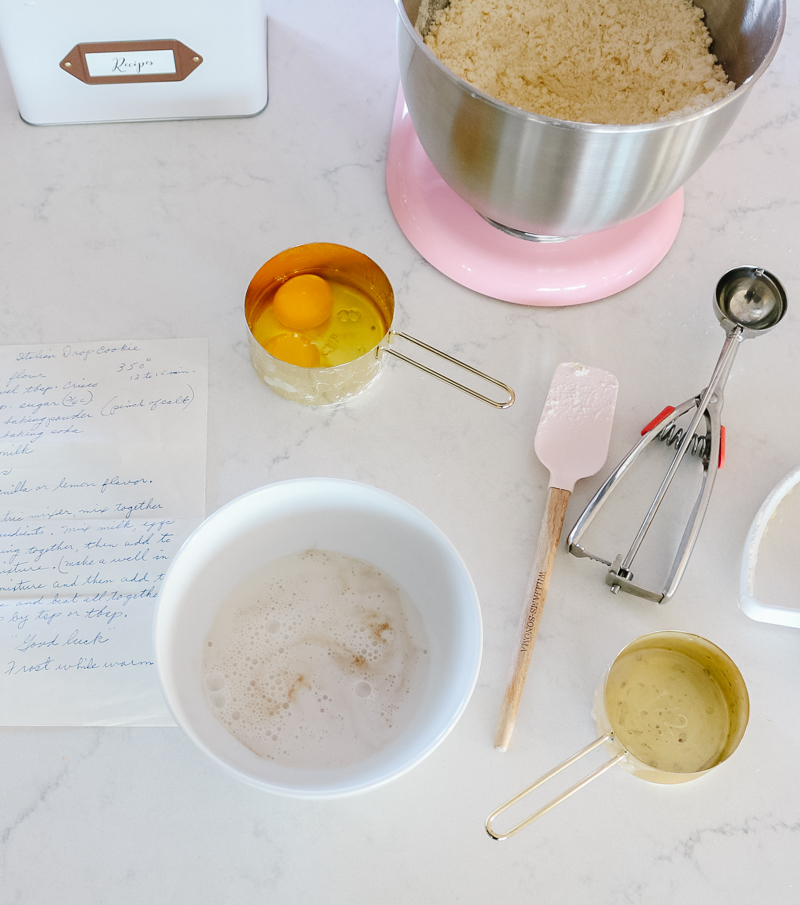 In a separate bowl combine 2 eggs, 1/2 cup of milk (or can substitute regular milk for almond milk like I did – both ways are delicious!) and 1 tsp of vanilla or lemon extract (I love both options but went with vanilla for this batch).
Baking tip:
I always keep my measuring cup handy and crack my eggs into the cup so I don't have to worry about fishing out any potential egg shells in the batter! This is also a great way to get the kiddos involved since they are practicing cracking eggs this simple option allows you to easily remove any egg shells.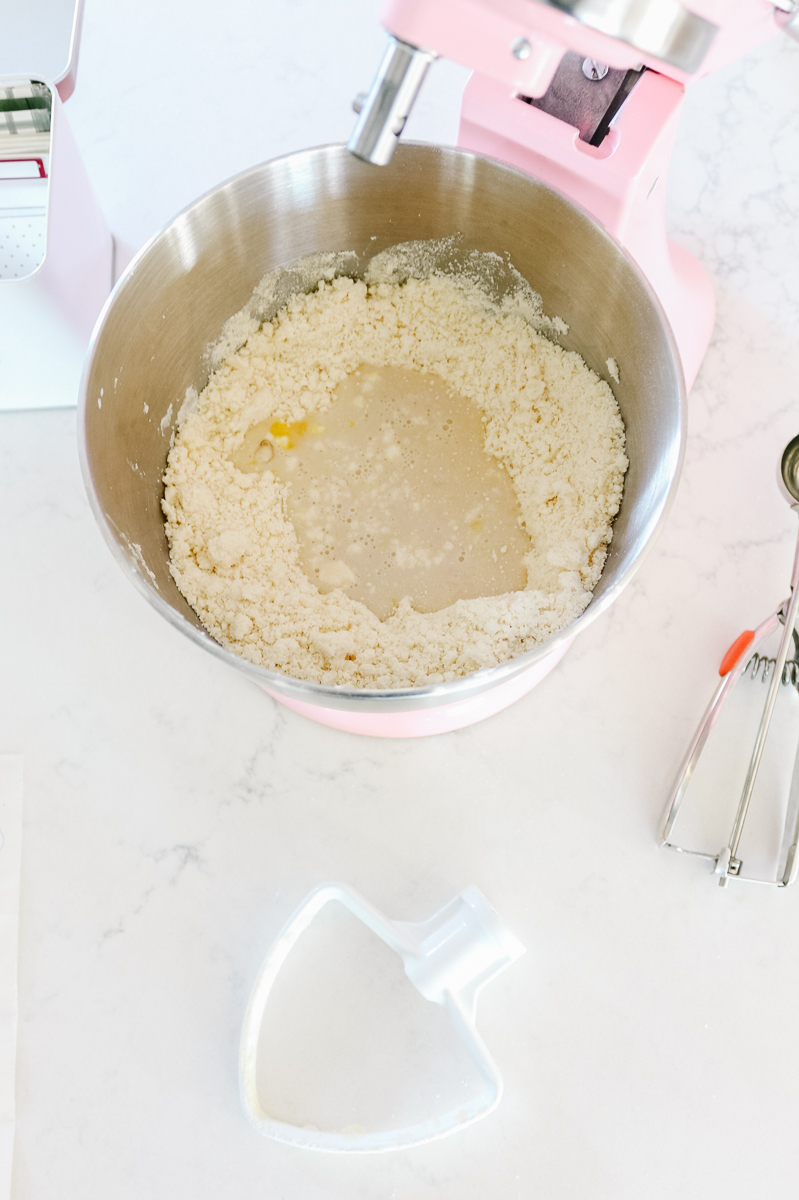 Then make a "well" as my grandma called it in your flour mixture and add the milk, eggs & vanilla mixture. Mix/beat together and then drop by tsp or tbsp.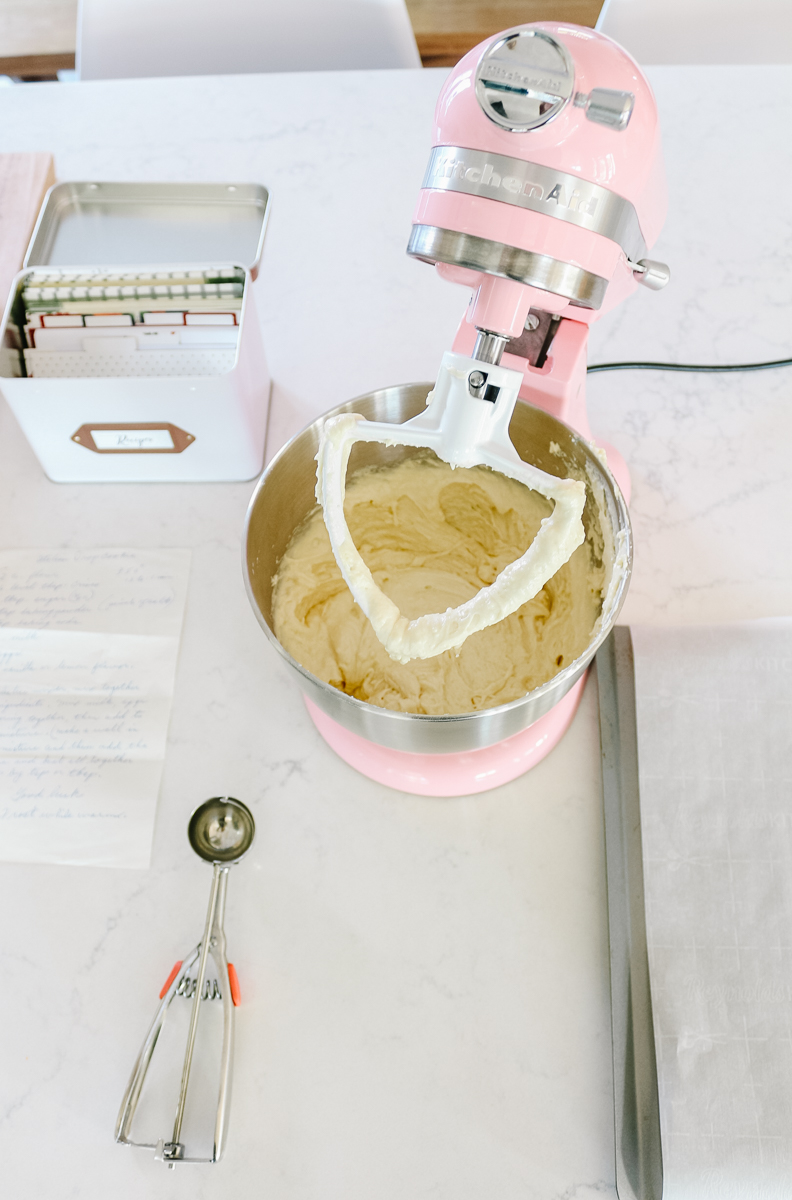 Recipe Tip:
Instead of dropping my batter with a spoon or rolling by hand (super messy) I use my cookie scooper and it works great! Also I always use parchment paper when I bake – so there are no worries about cookies sticking to the pan and the paper can be re-used with each batch!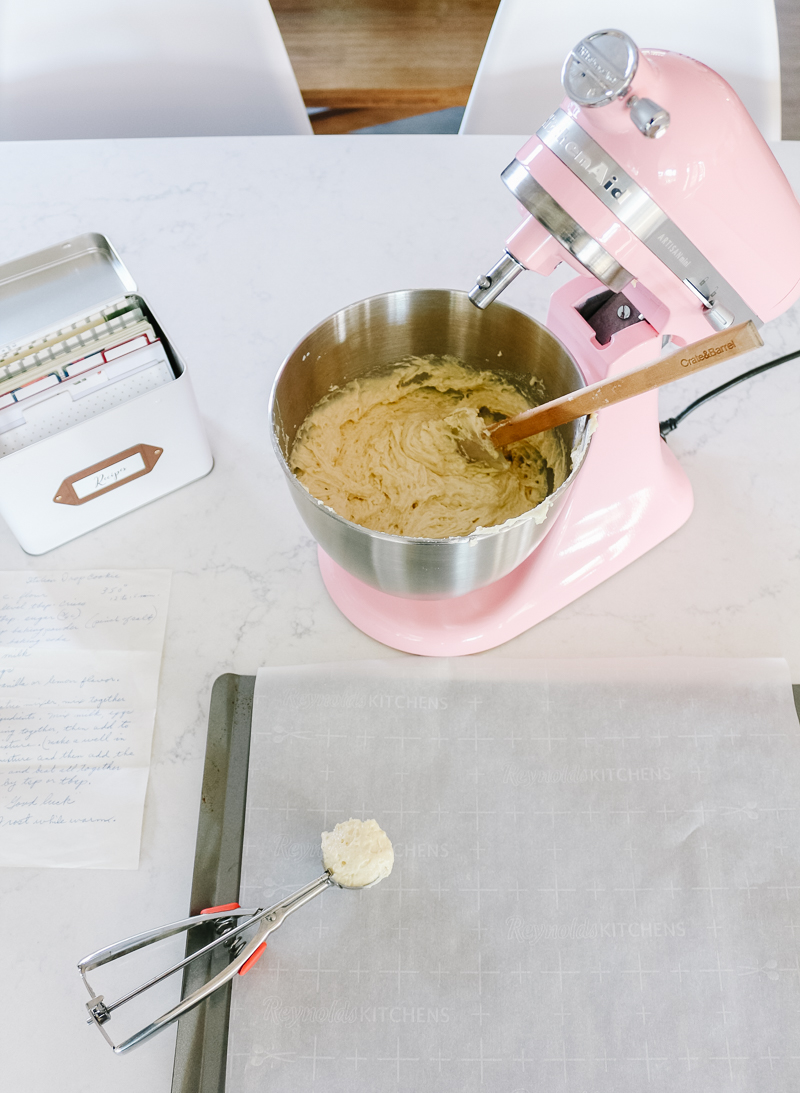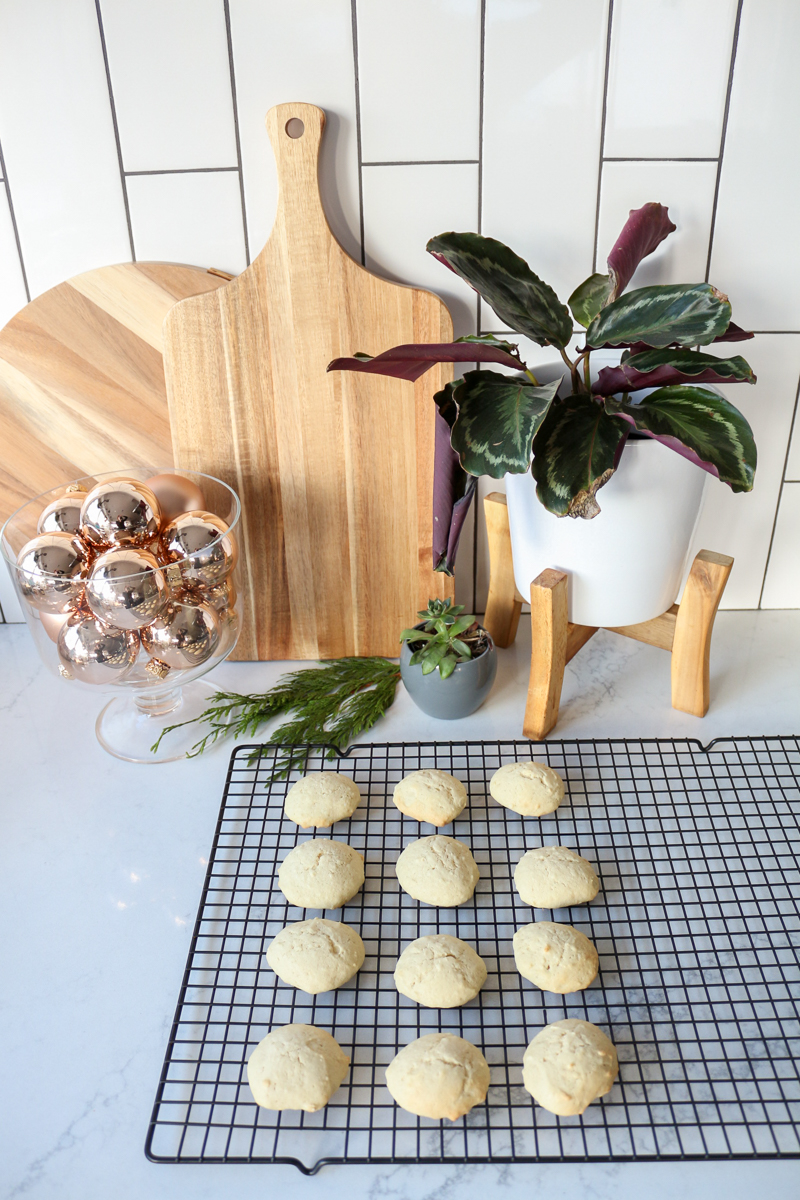 Cookies then go in the oven at 350 degrees for 10-12 min.
Recipe tip:
You know your oven best! With convection ovens definitely make sure you account for faster baking – I made sure to peek at mine between 8-10 min. They cook fast and you don't want to overcook them! You can always take them out when they look done and they will finishing cookie while they are cooling.
Baking tip:
Cookie/Cooling wracks are a must! I love mine!
Italian Drop Cookie Frosting
While the cookies are baking whip together the frosting – mix together 1 cup of powdered sugar, a touch of vanilla extract, pat of butter and either hot water or milk. Make sure you pay attention to the consistency so it isn't too watery.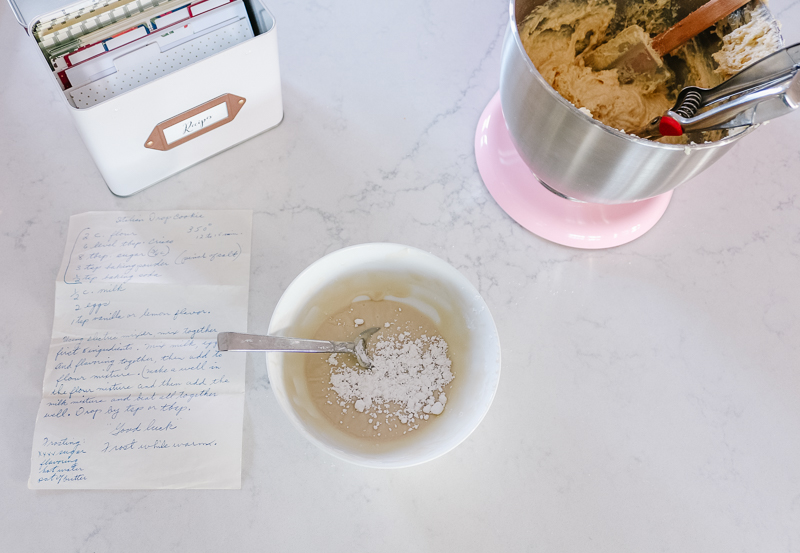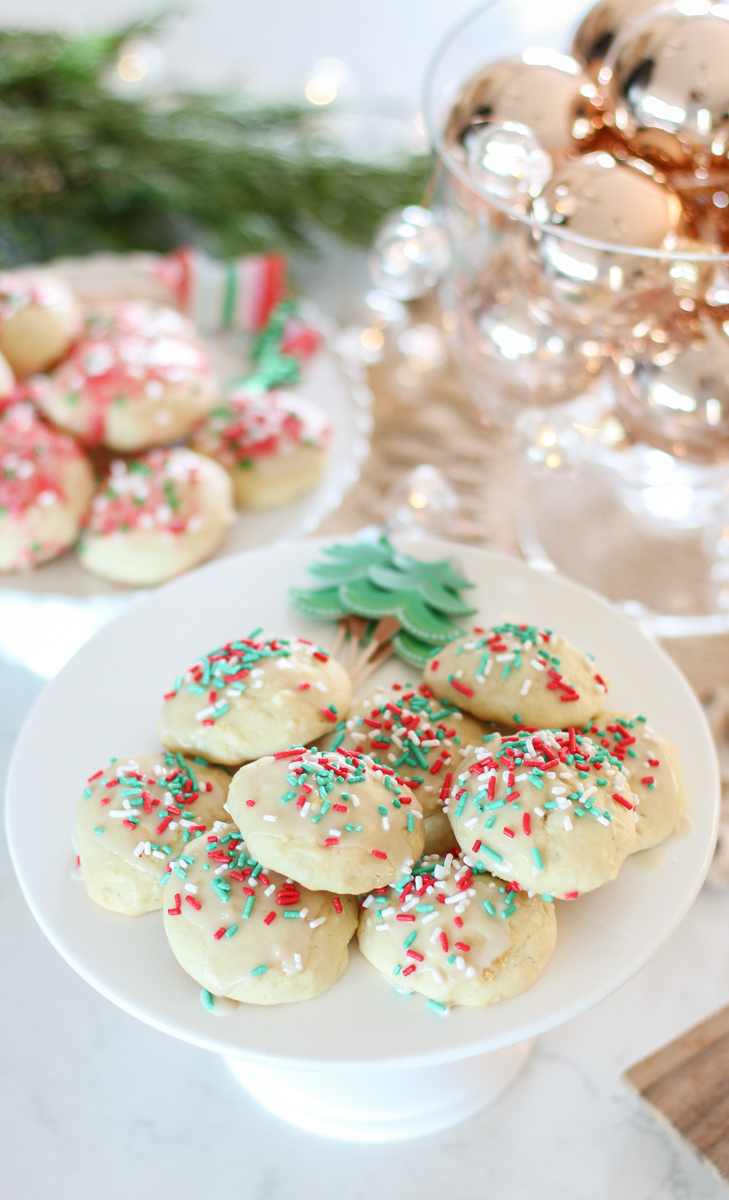 Festive Christmas Cookies
We used a Christmas sprinkle kit for our decorations to make them extra festive. You can leave them plain or add rainbow sprinkles – whatever you'd like! We even tried frosting them with store bought whipped vanilla frosting and they were a perfect pair. Italian drop cookies are a great alternative to the popular sugar cookie.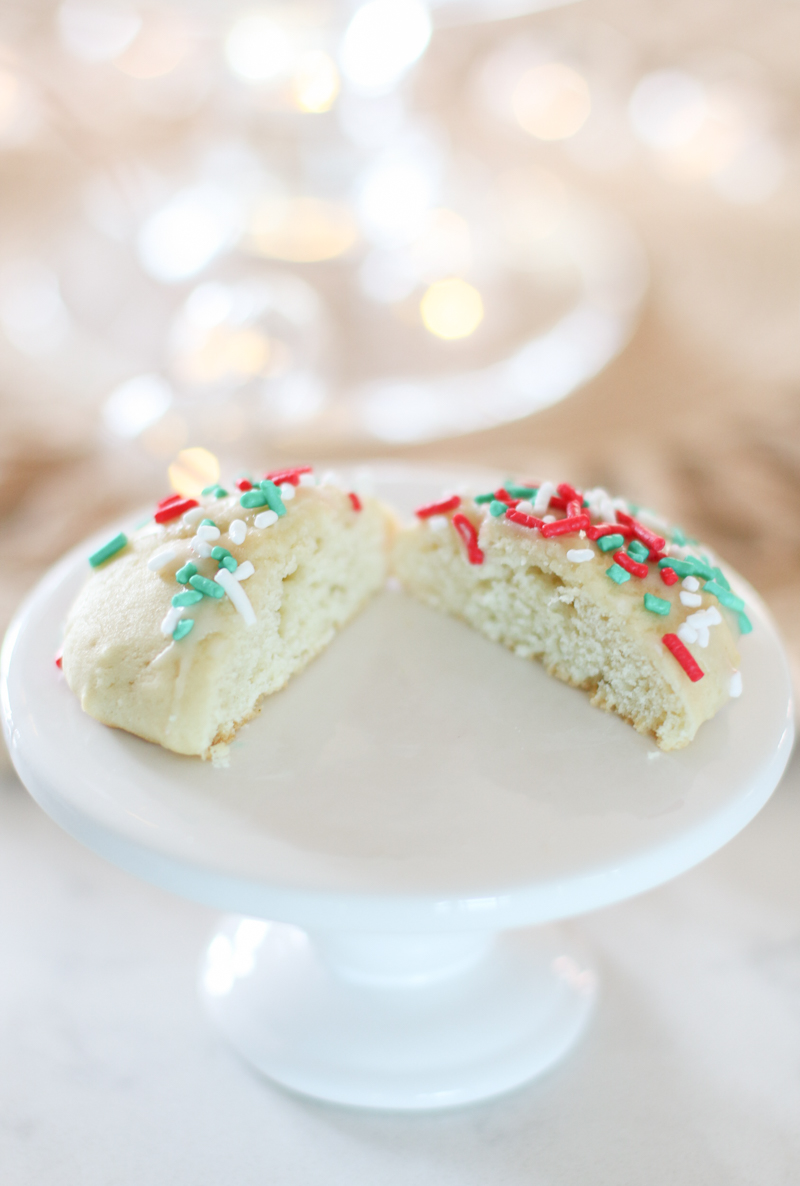 Every bite makes me remember my grandma and the bond we shared. I miss her so much…But I love that her spirit through her recipes and the amazing memories live on in our hearts and will forever…love you so much Grammie, xo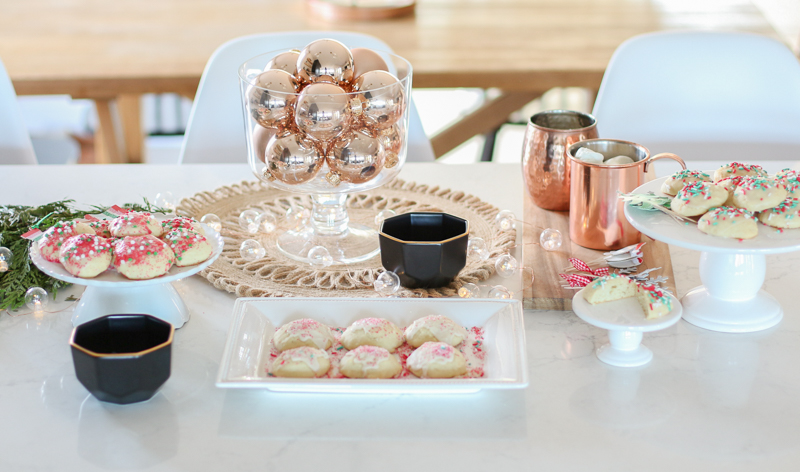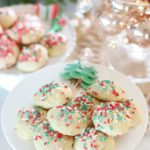 Print Recipe
Grandma's Italian Drop Cookies
A delicious cookie perfect for the holidays and a Christmas Cookie Swap!

Ingredients
2

cups

flour

6

tbsp

Crisco

3/4

cup

sugar

3

tsp

baking powder

1/2

tsp

baking soda

1/2

cup

milk

2

eggs

1

tsp

vanilla extract or lemon extract

Pinch

salt
Instructions
Using an electric mixer, mix together first 5 ingredients (flour, Crisco or you can sub 8 tbsp of unsalted butter for the Crisco), sugar, baking powder, baking soda and a pinch of salt.


Mix milk, eggs and flavoring together, then add to flour mixture (make a well in the flour mixture and then add the milk mixture and beat together).


Drop by tsp or tbsp. You can also use a cookie scooper.






Bake at 350 degrees for 10-12 min.


While baking cookies make the frosting using 1 cup of powdered sugar, a touch of vanilla extract, small amount of hot water and a pat of melted butter. Frosting should not be watery. Frost cookies while they are warm.


Decorate with festive sprinkles for the holidays.

Notes
*I subbed 8 tsbp of butter for the 6 tbsp of Crisco and subbed almond milk for whole milk. They are great either way but may be helpful for those with dairy restrictions to to use almond milk. Also melting the butter slightly before mixing I found is very helpful!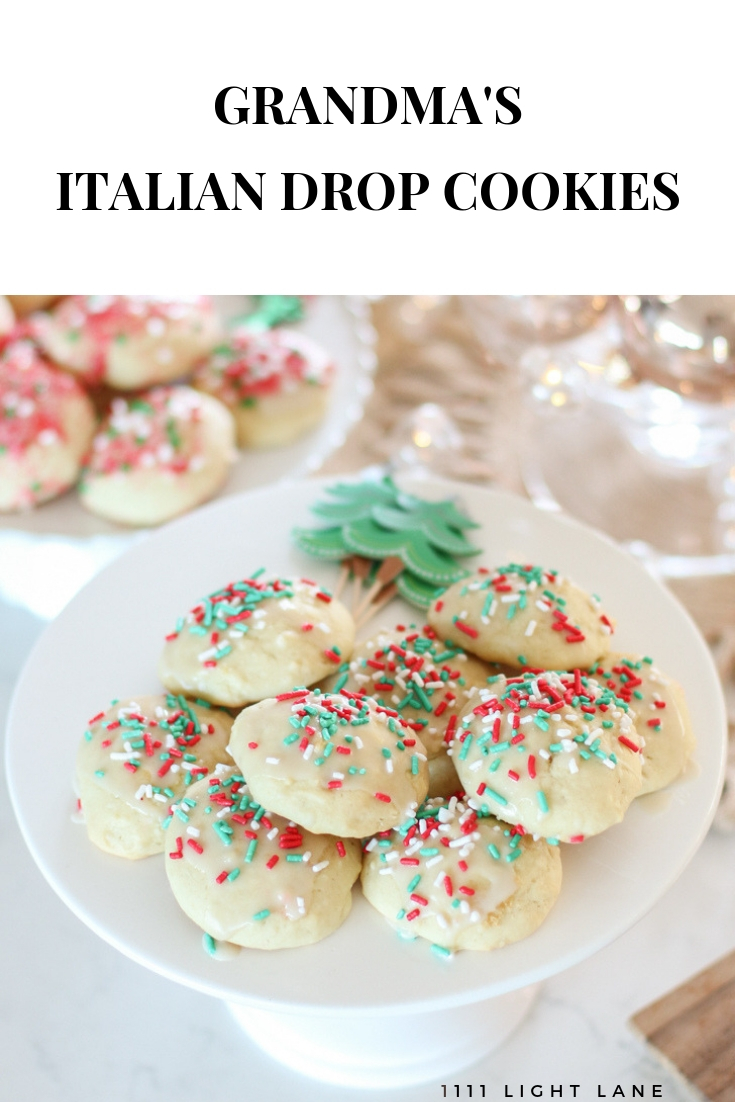 Next up on our Christmas Cookie Swap please visit Leslie from My 100 Year Old Home for another awesome cookie recipe. Leslie's home is to die for!! All heart eyes for every detail and square inch of her home!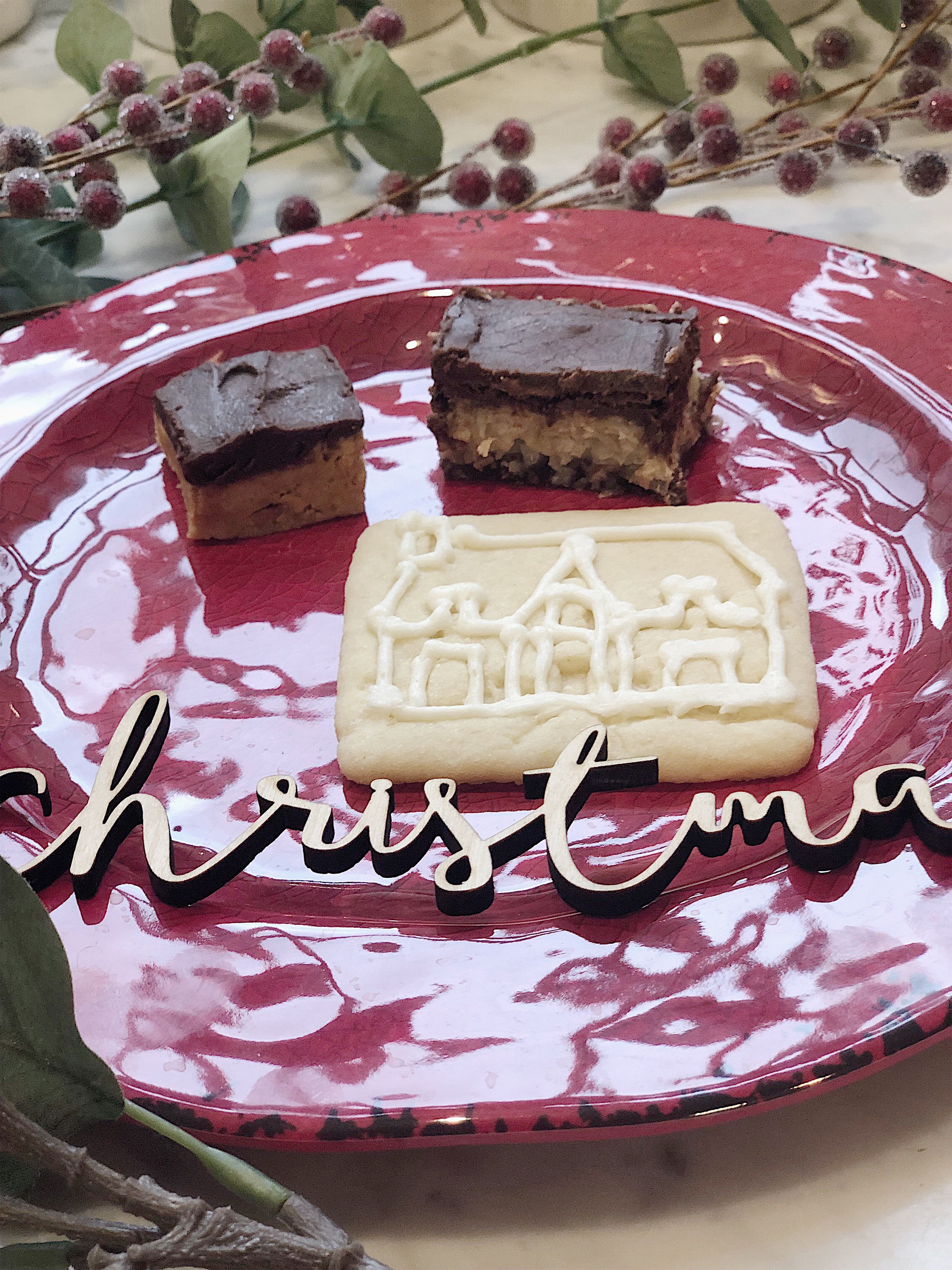 Also make sure you stop by all of my blogging friends on this Christmas Cookie Swap. Hopefully we will inspire you to add some new and yummy cookies to your baking list this year!
Pizzazzerie | Your Marketing BFF | Our Vintage Farmhouse | 1111 Light Lane
My 100 Year Old Home | Remington Avenue | Southern Curls and Pearls | Kristy Wicks
Happiest holidays my friends,

See more of my home for the holidays here! And my gift guides here and here.