These cookies are ri. dic. u. lous.
In fact, we shouldn't call them old-fashioned chocolate drop cookies. We should call them chocolate brownie cookies. The texture more closely resembles a brownie than, say, a chocolate chip cookie.
This recipe likely comes from a 1930s home ec class at Penn State. (Read more about The Clara Project and the 1930s recipes that inspired it.) Like many old recipes, it's a little non-specific: "1/2 cup fat" (what kind of fat?); "1 sq. chocolate" (how much is 1 square? what kind of chocolate?) "bake in moderate oven" (how hot is moderate?). But a little internet sleuthing provided answers.
I adapted this recipe slightly, using 1/2 cup of Hershey's cocoa powder instead of the vague "1 sq. chocolate"—because I didn't have baking chocolate on hand (1 square of baking chocolate = 1 ounce), and because it seemed like a hassle to chop and melt the chocolate. I used chopped toasted Georgia pecans and was glad I didn't think to omit the nuts, because they add a depth of flavor and texture that makes these simple chocolate cookies extra special.
If you can resist repeatedly dredging your finger through this super-chocolatey cookie dough, you are a better human being than I am.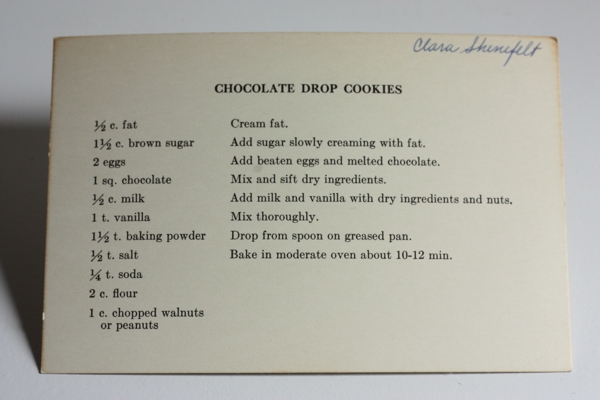 Print
OLD-FASHIONED CHOCOLATE DROP COOKIES
(makes about 40 cookies)
1/2 cup unsalted butter, softened at room temperature
1 1/2 cups lightly packed brown sugar
2 large eggs
1/2 cup milk
1 tsp. vanilla extract
2 cups all-purpose flour
1/2 cup unsweetened cocoa powder (like Hershey's)
1 1/2 tsp. baking powder
1/2 tsp. salt
1/4 tsp. baking soda
1 cup chopped toasted walnuts, pecans, almonds or peanuts
Preheat oven to 375 degrees; line two baking sheets with parchment paper. In the bowl of a stand mixer (or in a large bowl using a hand mixer) cream together the butter and brown sugar until well-blended and fluffy, about 2 minutes. Add the eggs and mix to combine; add milk and vanilla and stir. In a separate bowl, sift or sieve together the flour, cocoa powder, baking powder, salt and baking soda. Add the dry ingredients to the mixer and slowly blend to combine. Stir in chopped nuts. Drop cookie dough by teaspoonfuls onto the paper-covered baking sheets. Bake for 15 minutes, rotating the baking sheets halfway through the baking time, until the cookies are set. Remove the cookies to a wire rack to cool.
(Note: This cookie dough is softer than, say, a chocolate chip cookie dough; more like a very thick brownie batter. If you're making these cookies on a warm day, as I did, then stash the bowl of dough in the refrigerator between batches to help the cookies hold their shape during baking.)
---
About The Clara Project
Once a week, I'll make and share a recipe from a collection of vintage recipe cards that were written in the 1930s by Clara Shenefelt. See all the Clara Project recipes.
---