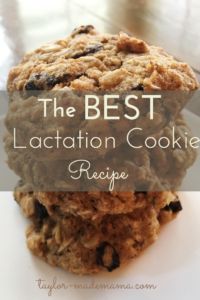 This post contains affiliate links for your convenience. The products linked are ones I use and enjoy!
Do you want to increase your milk supply? Are you worried about a dip in your milk production when you return to work after maternity leave, or when your monthly friend finally returns? I know I was!
About a month and a half before I returned to work, I started trying to build up a freezer stash of breastmilk in anticipation of an inevitable dip in my supply. My goal is to breastfeed Taylor up to her 1st birthday, but I knew that wouldn't be easy with going back to work and I needed a game plan. I would pump once in the evening after I put Taylor to bed, and another time in the early morning, after her 3-4AM feed (find out exactly what I stock in my pumping bag in this post). I noticed I really wasn't producing much extra, so I started researching ingredients that would give me a needed lactation boost. I came across a recipe that I modified to be almost gluten free (oat flour- yum!) and low sugar, since the concept of intentionally eating cookies all day long was appealing but also not part of my postpartum fitness plan. Exclusively nursing mom's do need to consume between 300-500 additional calories a day to keep up their milk supply, so make those extra calories work for you and your baby by munching on these cookies.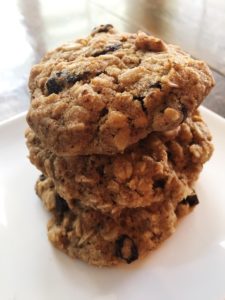 Now that I'm back at work, I make a batch of my trusty cookies every few weeks to provide the added milk supply I need to keep up with pumping enough at work to meet Taylor's needs.  Read more about my working mama pumping/feeding schedule in this post. I notice a 3-4 ounce difference between the days I eat the cookies, and the days I do not. So far, I've only had to dip into my freezer stash a couple of times, usually during the weeks when I haven't taken the time to make a batch. [update as of 1/7/16: I am still breastfeeding and successfully pumping at work, and now take this Honest Co. Lactation Supplement, 2 pills once per day, in addition to eating these cookies when I've noticed a dip].
The key to the cookie's effectiveness is in their super lactation boosting ingredients. Almost all of these ingredients can be purchased through Amazon Prime Pantry, which is an AMAZING resource for us busy mamas with limited time to get into the actual grocery store. You'll only need to buy most of the ingredients once (i.e. Brewer's yeast, Fenugreek tablets, oat flour, etc.) because you only use a bit per batch – well worth the initial investment!
Make sure to check out all of my posts related to breastfeeding and weaning HERE! I truly hope you find inspiration, strategies, and encouragement to keep you going on your breastfeeding journey.
Other Ta[y]lor-made Mama posts you may be interested in:
The Bittersweet Experience of Weaning After 1 Year of Breastfeeding
Top Tips For Successfully Pumping At Work
An Interview With Lactation Consultant – Her Top 3 Breastfeeding Tips For New Moms!
How To Build A Breastmilk Freezer Stash On Maternity Leave
Top 10 Breastfeeding Must-Haves For New Moms
What's In My Pumping Bag 
A Working, Pumping And Breastfeeding Mama's Workday Routine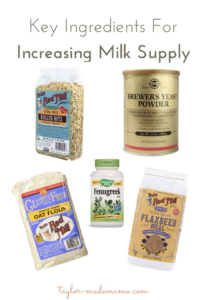 The Best Lactation Cookie Recipe:
Ingredients 
1 cup butter softened
1 cup sugar (I substitute this Truvia baking sugar or coconut sugar)
1 cup brown sugar (I substitute this Splenda brown sugar blend)
4 tbsp of water
2 tbsp flaxseed meal
2 large, omega 3 eggs
1 tsp vanilla extract
2 cups oat flour
1 tsp baking soda
1 tsp salt
3 cups of thick cut oats
1 cup of raisins
4 tbsp of brewer's yeast  (NOT ALL Brewer's Yeast is GLUTEN FREE – the brand linked is!)
9 fenugreek capsules (empty capsules and throw away casings)
Directions
Preheat the oven to 375 degrees.
Mix flaxseed meal and water, set aside.
Sift together dry ingredients (flour, brewer's yeast, salt, soda and fenugreek), set aside.
Blend butter and sugars well.
Blend in eggs, one at a time.
Stir in flaxseed mix and vanilla, mix well.
Add dry mixture in three equal parts.
Stir in oats and raisins.
Drop on baking sheet 1 inch apart.
Bake for 10 – 15 minutes.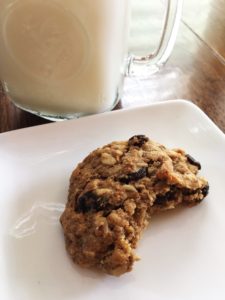 Ideally, you would space out your cookie consumption throughout the day; when I'm trying to up my milk supply I'll eat one in the morning, another as a snack at work, and then another in the evening. I always throw a cookie (or two!) in a Ziploc into my pumping bag as a pump sesh snack.
If you find yourself needing a boost in your milk supply like I did, whip up a batch of these and give them 24-48 hours to help you out. Happy snacking/lactating!