Pan Cream Cheese Sugar Cookies was one of the first recipes I posted back in 2008. It is the best sugar cookie recipe ever!  No rolling and cutting out dough, just spread into a sheet pan, bake, and frost. Cream cheese is the key  to the soft texture in both the dough and the sugar cookie icing! Once you try this pan sugar cookie recipe, you may never go back to making the traditional roll-and-cut sugar cookie.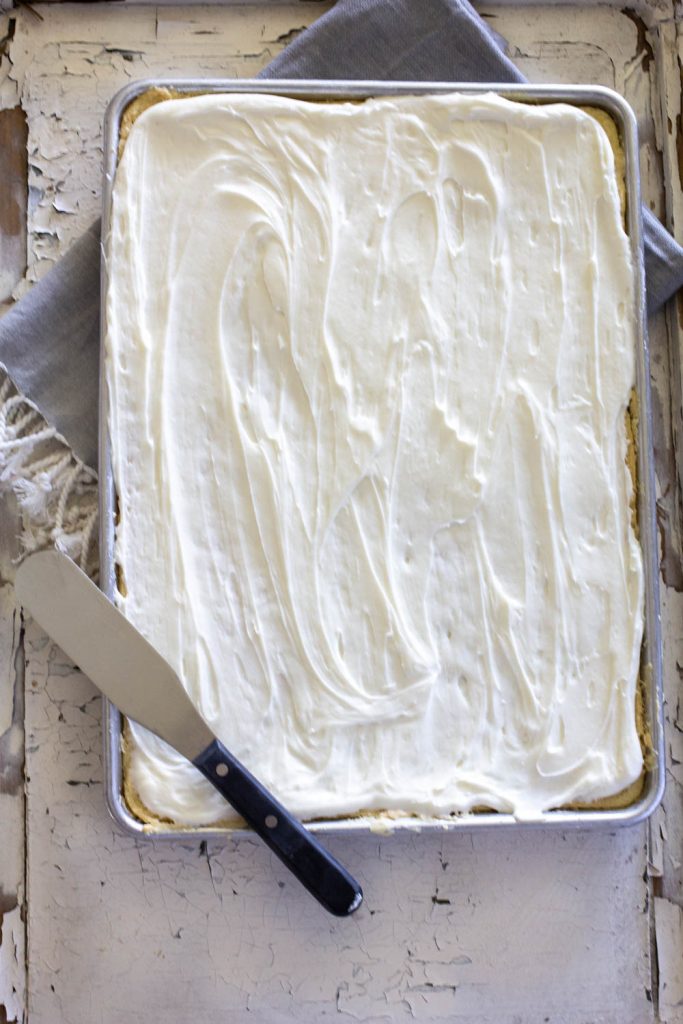 Sheet Pan Sugar Cookies – The easiest way to make sugar cookies!
My dear friend Tessa has shared many recipes that have become ABK favorites over the years. She gave me this recipe shortly after we moved to Bountiful in the early 90's. When Tessa shared her recipe for pan sugar cookies with me, I knew it would be a winner. Our family has loved many of her recipes including Family Favorite Enchilada's,  French Peasant Bread and Southwest Tortilla Rollups to name a few. This recipe has been made too many times to count in our family!  Before I tried this recipe, I had never thought of spreading sugar cookie dough into a pan and baking all at once, instead of the traditional method of rolling out and cutting each cookie individually. This recipe and method of making sugar cookies is the best!  I love the simplified approach to the Pan Cream Cheese Sugar Cookies and I know you will too.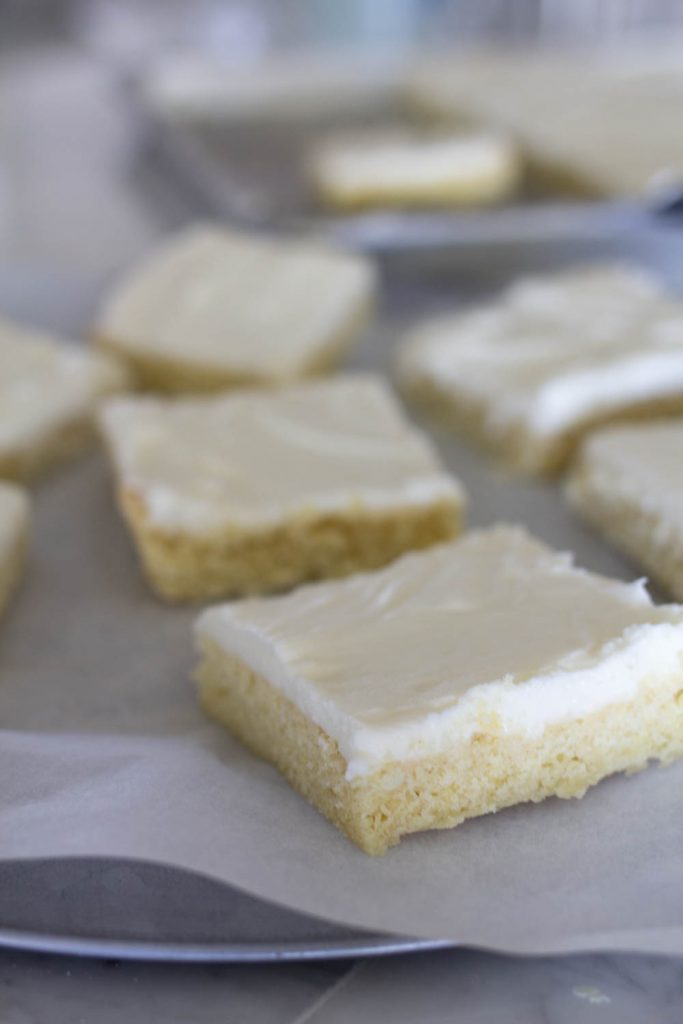 Pan Cream Cheese Sugar Cookie
If you haven't ever made a sugar cookie using cream cheese, prepare to be WOWed! This sugar cookie recipe is different from all the rest because the cream cheese in both the sugar cookie dough and the Pan Cream Cheese Sugar Cookie icing gives this cookie a flavor and texture that sets it apart from all the rest. The cream cheese gives the cookie dough a perfectly light texture.
Sugar Cookie Icing made with cream cheese
What's better than a sugar cookie topped with cream cheese icing? How about a whole sheet pan full of sugar cookies covered in the most delicious cream cheese icing. It's not too heavy and not too light, made with just the perfect amount of cream cheese! I'm  not a huge fan of cream cheese icing, but this is an icing I love. Because the sugar cookie icing is made with cream cheese, it is best to store the cookies in the fridge. If you don't have cream cheese on hand, try this recipe for Sheet Pan Sour Cream Sugar Cookies.
I use plastic toppers especially made for my sheet pans, but if you don't have any, go ahead and cover the frosted sugar cookies in the pan with a layer of parchment paper to avoid the icing sticking to the foil or plastic wrap and then cover tightly so the cookies don't dry out in the fridge. They will keep for up to a week refrigerated, and month frozen if covered tightly. This recipe freezes well. I prefer to make icing  and frost just before serving if freezing the sheet pan of cookies!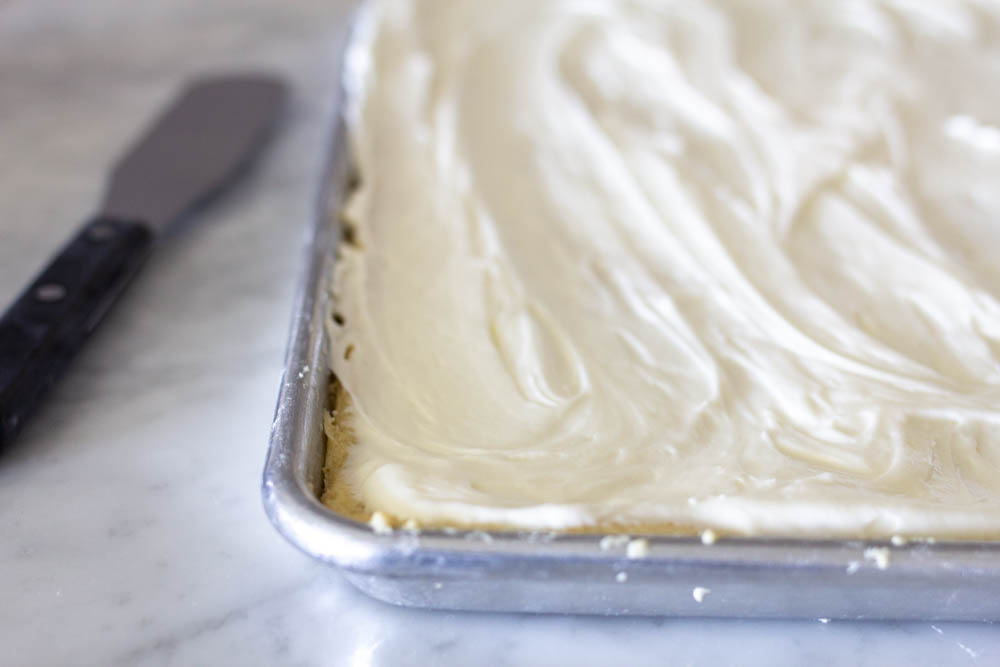 Serves a crowd perfect make-ahead treat!
The sheet pan of  cookies can easily be cut int o 24 pieces (6×4). If you are serving this with other desserts, go ahead and cut into smaller pieces. I've made this dessert bar cookie many times for large gatherings, and the cookies freeze and thaw well.  On day of serving, just remove the cookies from freezer, frost and cut when thawed. I usually make Pan Cream Cheese Sugar Cookies with white icing, but the icing can also be tinted with food coloring to suit any occasion! Pink is also a favorite in our home…
I hope you enjoy this recipe with your family! Leave a review in the comment section below and let us know of any modifications you make as well. Happy baking!
Pan Cream Cheese Sugar Cookies
The best sugar cookie ever! Pan Cream Cheese Sugar Cookies are baked in a sheet pan instead of rolling and cutting out induvidually. Perfect dessert for a crowd and for make ahead.
Total Time
1
hour
10
minutes
Ingredients
1

cup

unsalted butter

softened

8

oz

cream cheese (only regular, no low or no-fat)

softened

1 ½

cups

granulated sugar

1

large

egg

1

teaspoon

almond extract

(optional but recommended)

½

teaspoon

vanilla

(optional, or you may use 1 1/2 teaspons vanilla and omit almond extract)* see recipe notes

½

teaspoon

baking soda

1

teaspoon

baking powder

2 ½

cups

All Purpose flour
Frosting:
½

cup

unsalted butter

softened

4

oz

cream cheese - only regular (full fat)

softened (see recipe notes)

3 ½-4

cups

powdered sugar

2

teaspoons

vanilla

dash of salt

milk or half and half

to thin icing

food coloring

if desired
Instructions
Set rack in center of oven and preheat to 350 degrees while making cookie dough. Generously grease a jelly roll pan with cooking spray or butter. Set aside.

Cream 1 cup unsalted butter and 8 oz cream cheese together for about 1 minute in a stand mixer. Add granulated sugar. Mix for an additional minute on medium speed.

Add egg, almond and vanilla extract, blend until smooth.

Mix in all of the dry ingredients at once. Do not over mix. Mix just until wet and dry ingredients are incorporated on low speed.

Spread the dough into the pan with a long knife or spatula. I usually sprinkle some flour on the dough, so it is easier to spread. You can also use a mini rolling pin (floured) to spread the dough. Try not to press the dough too much, just spread into the pan evenly.

Bake at 350 for 20-25 minutes. Cook just until the top is light golden brown. Let cool completely. While cookie is cooling, make sugar cookie icing.
Sugar Cookie Icing
Cream 1/2 cup unsalted butter, 4 oz softened cream cheese and powdered sugar in a large mixing bowl or bowl of a stand mixer.

Add vanilla and salt. Beat until smooth.

Add milk a little at a time, until the frosting is spreading consistency.

When the pan of cookies are cooled completely, top with sugar cookie icing. Refrigerate, covered until ready to serve.
Recipe Notes
When making this or any other recipe, make sure to follow directions and ingredients precisely for best results. Make sure to use regular and not low fat or no fat cream cheese in this recipe. The texture of the cookies and icing depends on using regular cream cheese! 
As with traditional sugar cookies, this dough is best when handled as little as possible. After making the dough, remove from bowl and spread into the sheet pan using a large knife or spatula. You may spray the spreader with a bit of cooking spray or LIGHTLY sprinkle the top of dough with a little flour to help with ease of evenly spreading the dough into the sheet pan. Do not press the dough too much. The more the dough is pressed into the pan, the tougher the dough becomes. Spread and then bake!
The dough should be baked just until the top is light golden in color or a toothpick inserted in the center of the pan of dough comes out clean or with a few moist crumbs attached!
The sugar cookie dough calls for 1 teaspoon almond flavoring and 1/2 teaspoon vanilla. If you dislike almond flavoring, you may leave it out. The flavor is very subtle and most people who love this cookie love the almond flavoring. If omitting almond, you may use vanilla in its place.  I use pure vanilla extract, but always have a large container of imitation almond extract on hand and have had great results with imitation almond for this recipe. 
Make sure to GENEROUSLY grease the pan to prevent sticking of the dough. You may also use a sheet of parchment.