Christmas = Gingerbread. That's why you need these soft gingerbread molasses cookies on your Christmas baking list! They're thick with a subtle molasses flavor and will make your house smell just like Christmas morning when you bake them. If you love molasses flavor, you'll want to try this cake.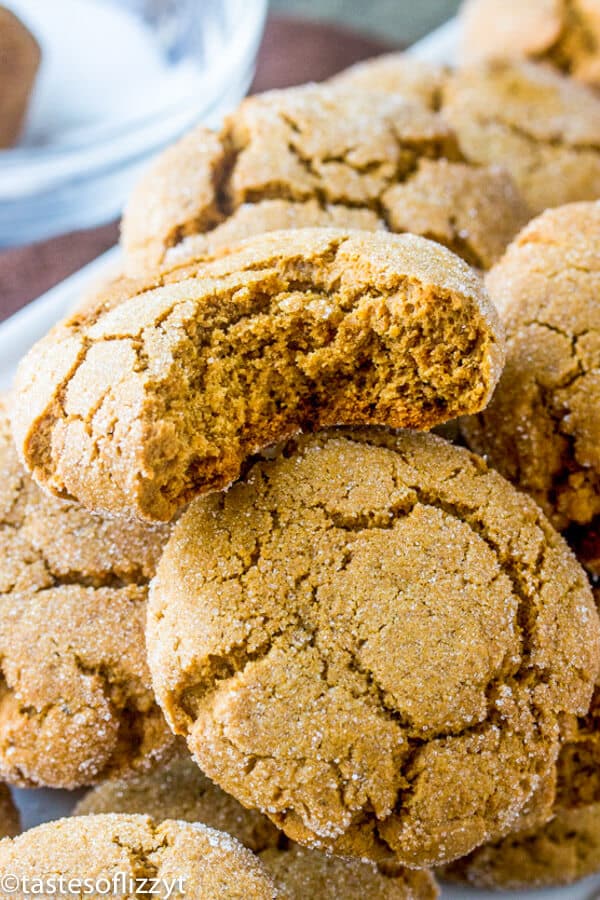 Soft Molasses Cookies Recipe
Up until just a few years ago, I would have considered myself a picky eater.  If something didn't have a good name, or didn't "look" good to me, I wouldn't eat it if I didn't have to. In many cases, that worked to my advantage.  Even in my love of sweets, there were some things that I never tried because I didn't think they would taste very good. Gingerbread was one of those things.
From what I remember, I didn't grow up eating gingerbread.  Maybe that was because it wasn't in the house much, or maybe that was because gingerbread isn't one of those things that sounds all that great to me, so I just never tried it. But about 7 years ago, I did try it. And it was amazing. And now I can't get enough of it during the Christmas season.
I should have just stayed away from it. These Soft Baked Gingerbread Cookies (or simply Molasses Cookies as they are sometimes called) are ones that my sister makes for Christmas every year. And to be honest, with all the chocolate chip cookies, candies, snowballs and saltine toffee sitting around, I never was that big on eating these molasses cookies. I've come along way, though, and now can't wait to get my hands on one of these soft, thick, rolled-in-sugar gingerbread cookies.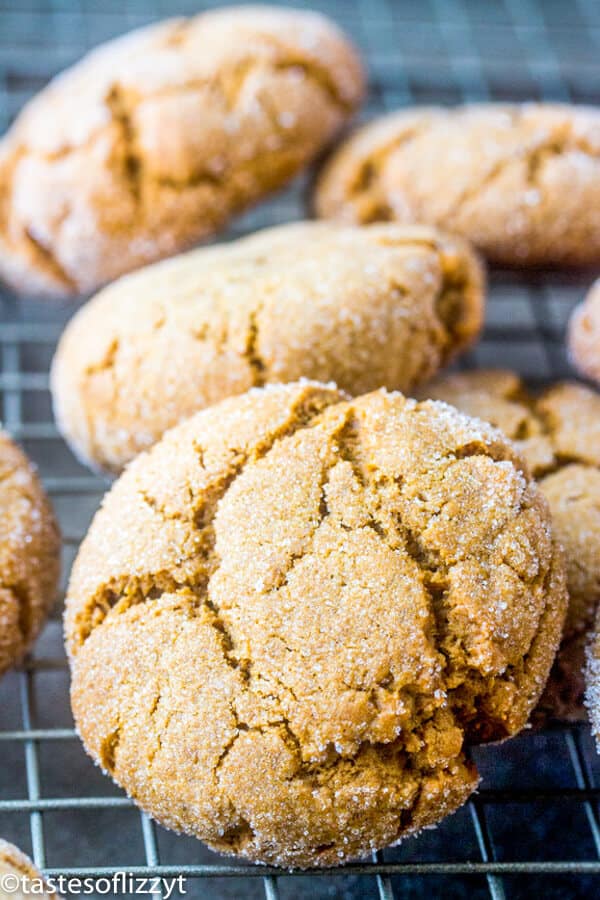 How to Make Molasses Cookies
Molasses cookies are one of the easiest cookies to make. The dough comes together quickly and easily. The dough does not have to be refrigerated. You can scoop the soft dough and roll them in sugar, place them on a baking sheet and bake. Easy as that!
Ginger Cookies
Ground ginger is the main spice that gives these cookies their amazing flavor. But don't forget the cinnamon, cloves and nutmeg, too. I highly recommend freshly grated nutmeg. It will really boost the flavor of these cookies!
Soft Gingerbread Cookies
If you love soft gingerbread, this is the recipe for you. Shortening and buttermilk keeps the cookies thick and soft. Store the cookies in an airtight container and they'll be soft for days.
They also freeze well! This recipe makes a large batch…about 4-5 dozen depending on how big you make the cookies, so this is important. Just be sure to allow the cookies to defrost completely before you unwrap them from the storage container. We describe fully how to freeze cookies here.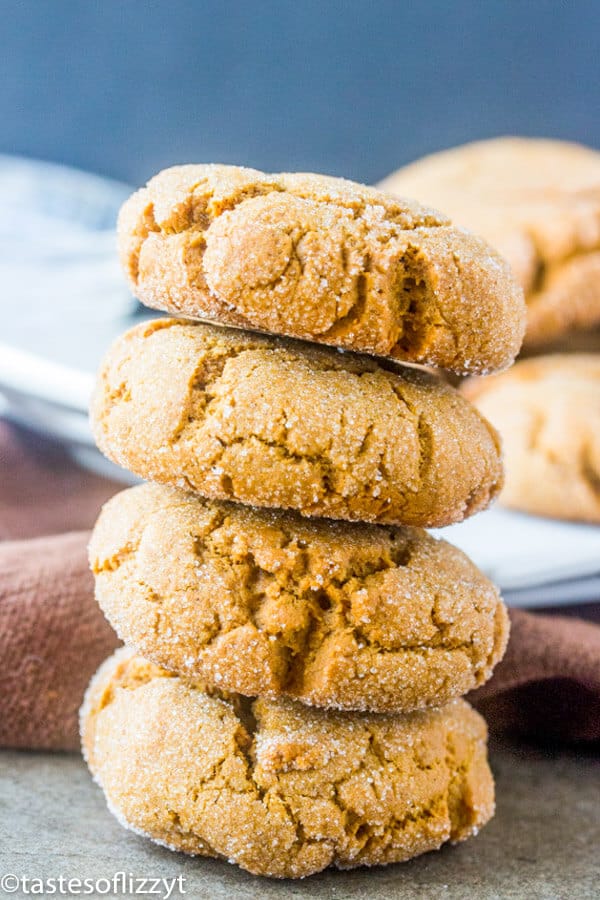 Our Favorite Cookie Tools?
Saigon Cinnamon

: This is our favorite cinnamon. You can't beat its flavor!

Stand Mixer

: A hand mixer will work, but I always find it easier to make cookie dough with a stand mixer.

Beater Blade with Scraper

: The best invention ever!

Buttermilk

: If you don't keep buttermilk on hand, use this dry buttermilk powder. It keeps longer!

Silpat

: For all of your non-stick, cookie-making needs. This is in the top 3 must-have kitchen tools. I don't know what I'd do without them!

Baking Sheet

: I like to use flat baking sheets for easy removing baked goods easily.

Cookie Plate Set

: Display your homemade cookies in style. Everyone thinks this cookie plate is so cute!

Check out these stackable cookie racks.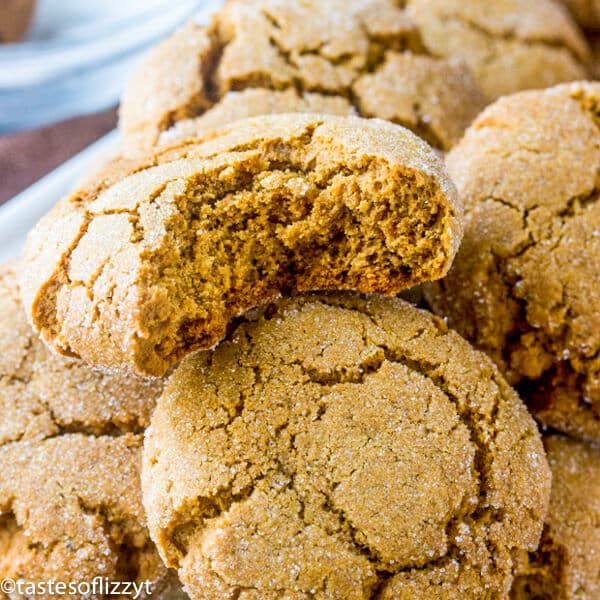 Print Pin
Soft Gingerbread Cookies
Soft Gingerbread Cookies have the taste of gingerbread cookies, but are soft and thick. Roll the dough balls in sugar for the perfect sweetness!
Ingredients
1

cup

shortening

1

cup

brown sugar

packed

1

cup

molasses

1

cup

buttermilk

5 1/2

cups

flour

4

teaspoons

baking soda

1

teaspoon

ginger

3/4

teaspoon

cinnamon

1/4

teaspoon

nutmeg

1/4

teaspoon

cloves

1

teaspoons

salt

1/2

cup

extra sugar for rolling dough
US Customary - Metric
Instructions
In a large bowl, cream together the shortening, brown sugar, molasses and buttermilk.

 In a separate bowl, sift together the flour, baking soda, ginger, cinnamon, nutmeg, cloves and salt. 

Add the dry ingredients to the creamed sugar mixture and mix well. 

Roll the dough into balls and then roll the balls in sugar.

Place the cookie dough balls on an ungreased cookie sheet and bake at 350 degrees for 11-12 minutes.

Allow the cookies to cool on a wire rack and then store in an airtight container.
Notes
The calories shown are based on the recipe making 60 cookies, with 1 serving being 1 cookie. Since different brands of ingredients have different nutritional information, the calories shown are just an estimate.
Nutrition
Calories:
111
kcal
|
Carbohydrates:
18
g
|
Protein:
1
g
|
Fat:
3
g
|
Sodium:
119
mg
|
Potassium:
104
mg
|
Sugar:
9
g
|
Vitamin A:
5
IU
|
Calcium:
21
mg
|
Iron:
0.8
mg