What I remember most about Christmas as a kid is the party food. The setting was always somebody's 1970's- style, wood panel rec room, kids running everywhere, that incredible spread of forbidden food that we had unrestricted access to (for one glorious night); food beyond our wildest grocery budget dreams, side tables lined with triple-decker serving trays, spilling over with mounds of olives, meat, crackers and cheeses. And then there were the carousels of sweets – sugar cookies, gingerbread, every dainty (as they called them back in the day), bar, tart and square imaginable. It was a Christmas food gluttenousganza! But it was the Whipped Shortbread that consistently won my heart….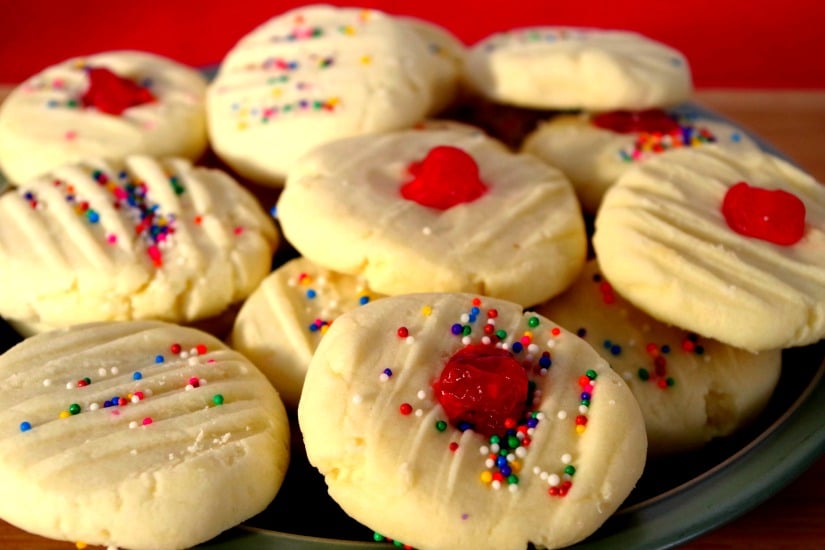 THIS POST CONTAINS SOME AFFILIATE LINKS (See Disclosure Policy)
These delectable, pillowy little melt-in- your- mouth gems were always what I gravitated to. And I couldn't get enough of these shortbread cookies with cornstarch (and I still can't)! I am told that the magic is in the whipping.
And they are nothing short of magical!  This is the easiest and best Whipped Shortbread cookie recipe I know of. All you need is 4 ingredients,  1 stand mixer (I LUV my KitchenAid and couldn't live without it! If you don't have one, check out the Amazon deals below!
Best Whipped Shortbread
A few minutes and some sprinkles and/or cherries (the addition of both cherries and sprinkles on one cookie was my daughter's brilliant idea this year!) and you have yourself one easy and amazing shortbread cookie!
This  whipped shortbread cookie with cornstarch has been around forever and at one time you could find it on the back of the cornstarch box. Although,  I don't know if that's still the case. These days I buy everything in gigantic size from Costco and the container is plastic (minus the shortbread cookie recipe). All the same, Christmas just isn't Christmas without these amazing and easy Whipped Shortbread Cookies .
Is this YOUR 'go to' Christmas Shortbread recipe??
Print Pin
Whipped Shortbread
4 ingredient whipped shortbread cookies are amazing, melt-in-your-mouth, quick and easy!
Ingredients
3

cups

butter

softened

1-1/2

cups

confectioners' sugar

referred to as 'icing sugar' in Canada, sifted

4-1/2

cups

all-purpose flour

1-1/2

cups

cornstarch
Garnish:
Nonpareils and/or halved candied cherries

optional
Instructions
Preheat oven to 300 degrees F.

In the bowl of your stand mixer, cream butter and icing sugar until light and fluffy (you can use a hand mixer, but it's not ideal).

Gradually add flour and cornstarch, beating until well blended.

With hands lightly dusted with additional cornstarch, roll dough into 1 inch. balls.

Place 1 inch. apart on ungreased baking sheets.

Press lightly with a floured fork.

Top with nonpareils and/or cherry halves, if desired.

Bake at 300° for 20-22 minutes or until bottoms are lightly browned.

Cool for 5 minutes before moving from pans to wire cooling racks.
Notes
Nutrition Facts: 1 serving (2 each) equals 81 calories, 5 g fat (3 g saturated fat), 14 mg cholesterol, 55 mg sodium, 8 g carbohydrate, trace fiber, 1 g protein.
This recipe is part of The Country Cook's Weekend Potluck