When it comes to cut out sugar cookies, this is the best recipe.  These cookies do not require chilling, keep their shape and taste great!  Plus they won a blind taste test for flavor and texture – so you know they must be good!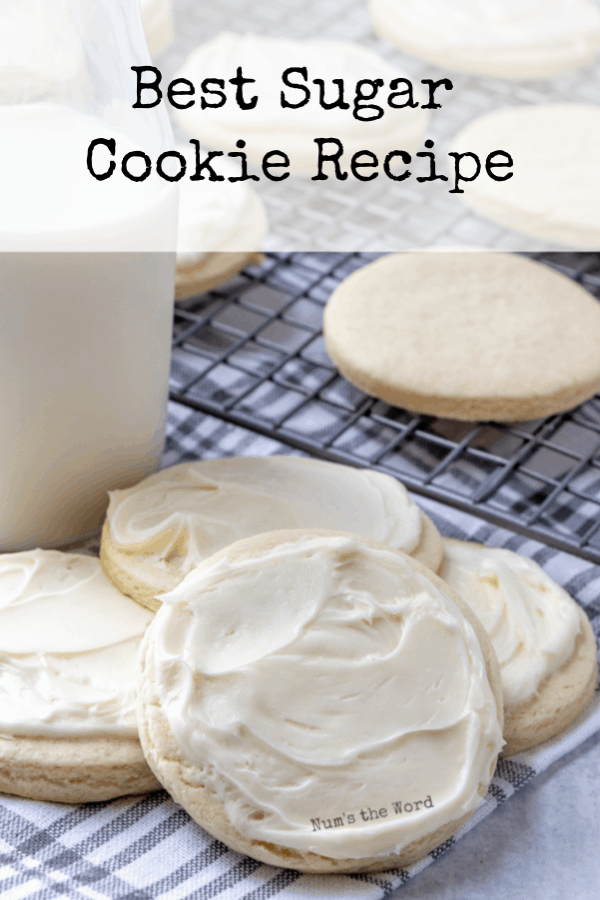 It's time for a Christmas giveaway! Are you getting geared up for the shopping season? Do you need extra cash for Christmas?? Don't we all!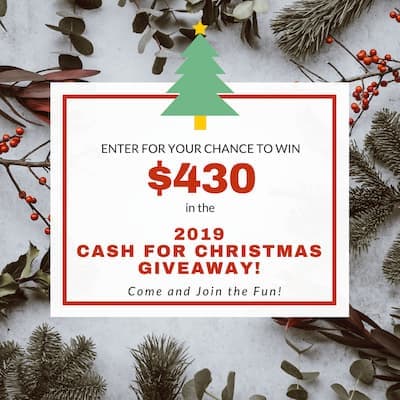 We are so excited to be giving away $430 in cash prizes for you to use starting this Thanksgiving weekend.
Here are the prizes:
1 – $150 Amazon Gift Card
1 – $100 Target Gift Card
2 – $50 Walmart Gift Card
1 – $50 Kohls Gift Card
2 – $15 Starbucks Gift Cards
There will be 7 winners in this giveaway. Each winner will receive a gift card code to use either in the online store or in the actual store.  To enter, scroll to the bottom of this recipe!
My Frosting Theory for Rolled Sugar Cookies:
Yes I have a frosting theory – or so I like to call it, and it very much is one of the reasons I love this cookie recipe. A comment I've gotten a few times on Pinterest is that these cookies aren't very sweet.  Some readers have mentioned that they prefer a much sweeter sugar cookie.  
I agree, a sweet sugar cookie is amazing.  However for easy roll out sugar cookies, you do NOT want them overly sweet.  
There are actually two types of sugar cookie recipes.    
Drop sugar cookies do not require frosting as they are rolled in sugar before baking. 
Cut out sugar cookies

are generally frosted with a glaze, royal icing or a soft buttercream frosting after baking.
Because these are cut out sugar cookies, and will be frosted with a VERY sweet, sugary frosting, you do not want your cookie base to be overly sweet.  If your cookie is overly sweet with a very sweet frosting on top, you'll find you won't be able to enjoy more than one cookie without feeling sick..  
So as a rule of thumb, keep your sugar cookies chewy, delicious and sweet but not overly sweet.  Then add your tasty frosting or icing on top to get the perfect flavor for your cookie.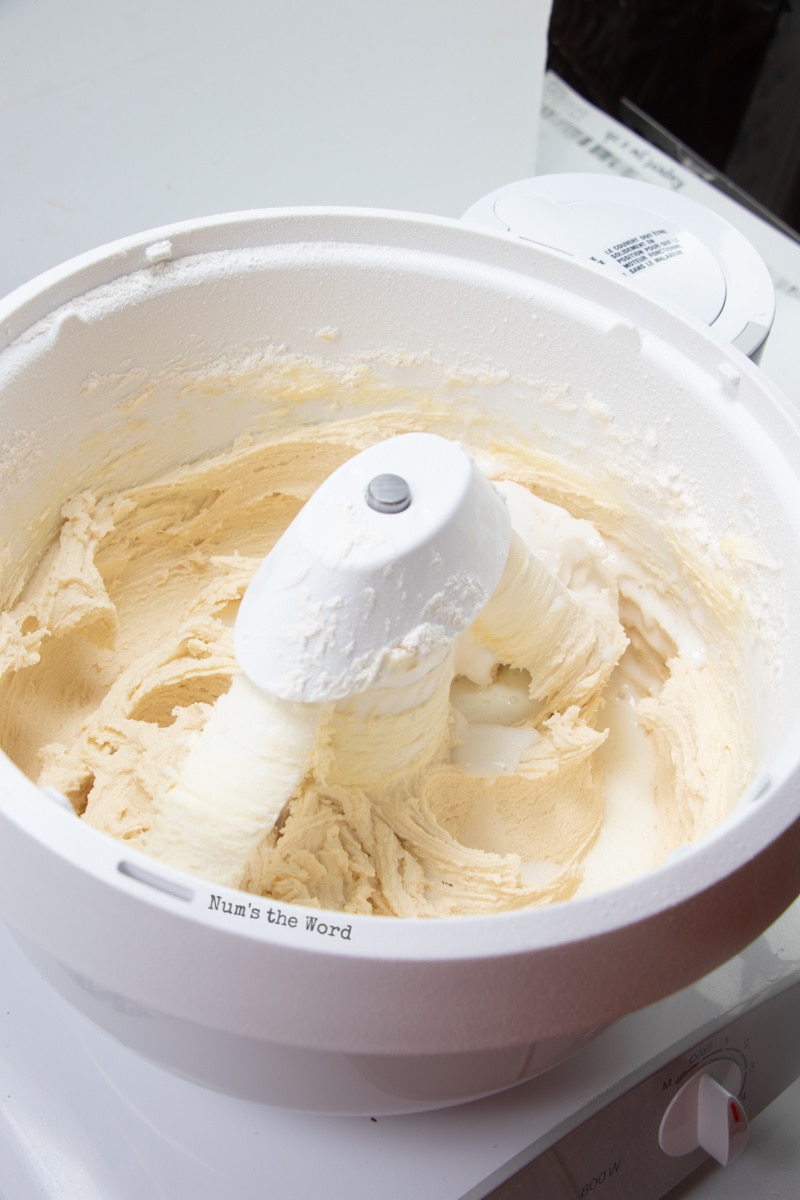 What ingredients are in this cut out sugar cookie recipe:
Sugar

– What is a sugar cookie without sugar?!  Used to sweeten the dough, it's a must have ingredient for any sugar cookie.

Butter

– 100% real butter is a must have for this recipe.  Any substitutions will lead to a sticky dough that will spread during baking.  If you want your cookie dough to keep its shape then use REAL butter. Personally I prefer to use salted butter in everything but you could just as easily use unsalted.

Eggs

– Eggs not only add structure, but they also help our cookies to be soft, flavorful and add a hint of color.  

Salt

– Every cookie needs a little salt to make the flavors pop.  

Baking Powder

– Baking powder is a leavening agent that will add a little height to your cookie.  It will however NOT make your cookie spread. Just thicken it up.

Buttermilk

– Buttermilk does two things for this

rolled sugar cookie recipe

.  First, it cuts down on the sweetness of the cookie, making it so it's not overly sweet.  Second, it helps keep your cookies soft! We all love soft sugar cookies that keep their shape!

Vanilla

– There are two extracts in this recipe.  Vanilla is the first. This helps give a soft flavor to your cookies.

Almond Extract

– This is the second extract.  Adding almond extract by itself tends to give a strong almond flavor to the cookies.  By adding the vanilla it helps give a warm flavor that doesn't overwhelm the taste buds. 

Flour

– Cookies need flour.  Don't add TOO much, but don't add too little either!  The right amount will give you an elastic dough that will roll well without sticking to your rolling pin.

Powdered Sugar

– This is my SECRET powerhouse ingredient!  Roll your cookie dough out on a bed of powdered sugar.  When you roll cookie dough out on flour, it toughens your dough.  Keep your dough soft and chewy while adding a hint more sugar to the dough.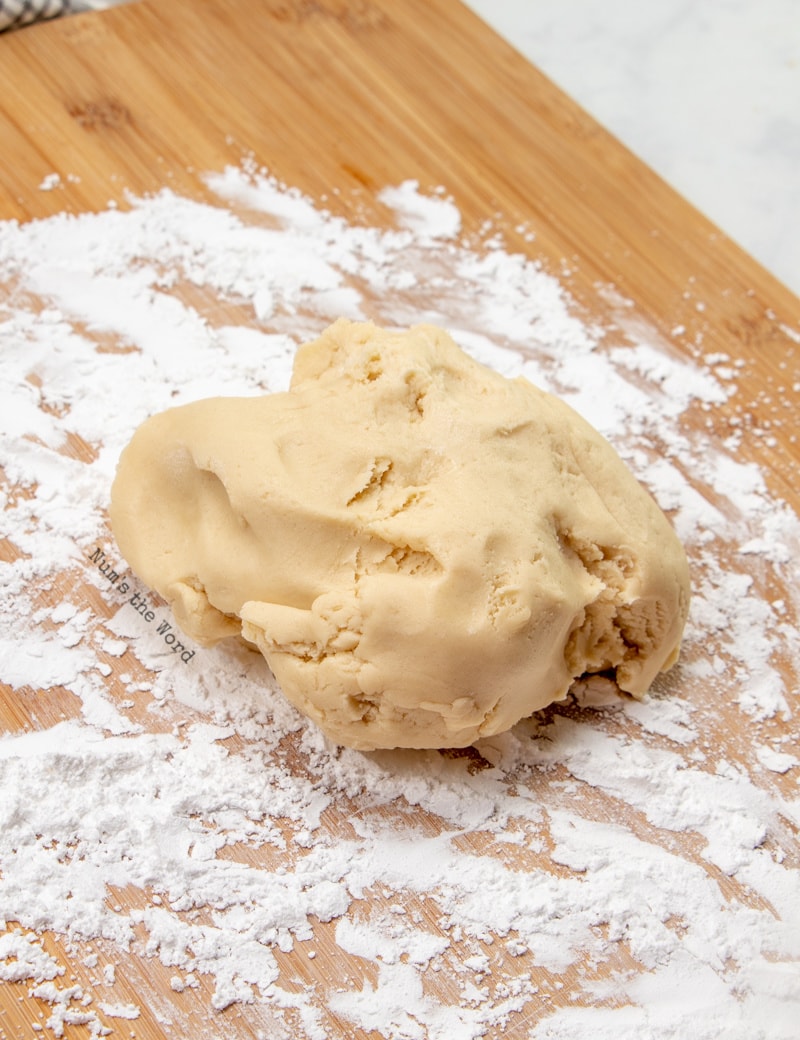 How to make the BEST rolled sugar cookies?


I should mention that I am not a fan of dirtying extra bowls for no reason.  I am a one bowl kind of girl and loath recipes that have me mixing various ingredients into 2, 3 or even 4 bowls before adding them to the main bowl.  Keep your kitchen clean and your mind sane with these simple instructions!
Make your Dough

.

In a bowl cream your butter and sugar together until fluffy. 
Add your eggs and mix again.
Add salt and baking powder.  Blend.
Blend a little buttermilk, vanilla and almond extract into the batter.
Add in half of the flour ½ cup at a time.
Add remaining buttermilk and mix.
Blend remaining flour, ½ cup at a time.
If dough is still sticky, then add a small amount of flour at a time until you get a soft [tiny bit sticky but not overly sticky] dough. Remember, the more flour you add the tougher your cookies will be, so don't get carried away.

Cut your Cookies

Sprinkle your work surface with powdered sugar.  Don't be shy. Place ⅓ of your dough on your powdered sugar.
Wipe down your rolling pin with powdered sugar too to help prevent sticking.
Roll out your dough to ¼ inch thickness [or close to]. The thinner your cookies the crispier they are.  The thicker your cookie the chewier they are. But don't go overboard on thickness as that will result in crispy edges and gooey centers.
Once your dough is rolled out, cut your shapes!

Bake your Cookies

Preheat oven and line your baking sheets.  I prefer a silicone mat or non stick foil, but spraying your pan or using parchment paper works well too!
Place your cookies on your prepared sheets and bake!

Bake your Cookies

Use your favorite cookie frosting like this Chocolate Icing for Cookies that dries hard and frost your cookies.
Add sprinkles, candies or colored sugar too! Let your imagination go wild!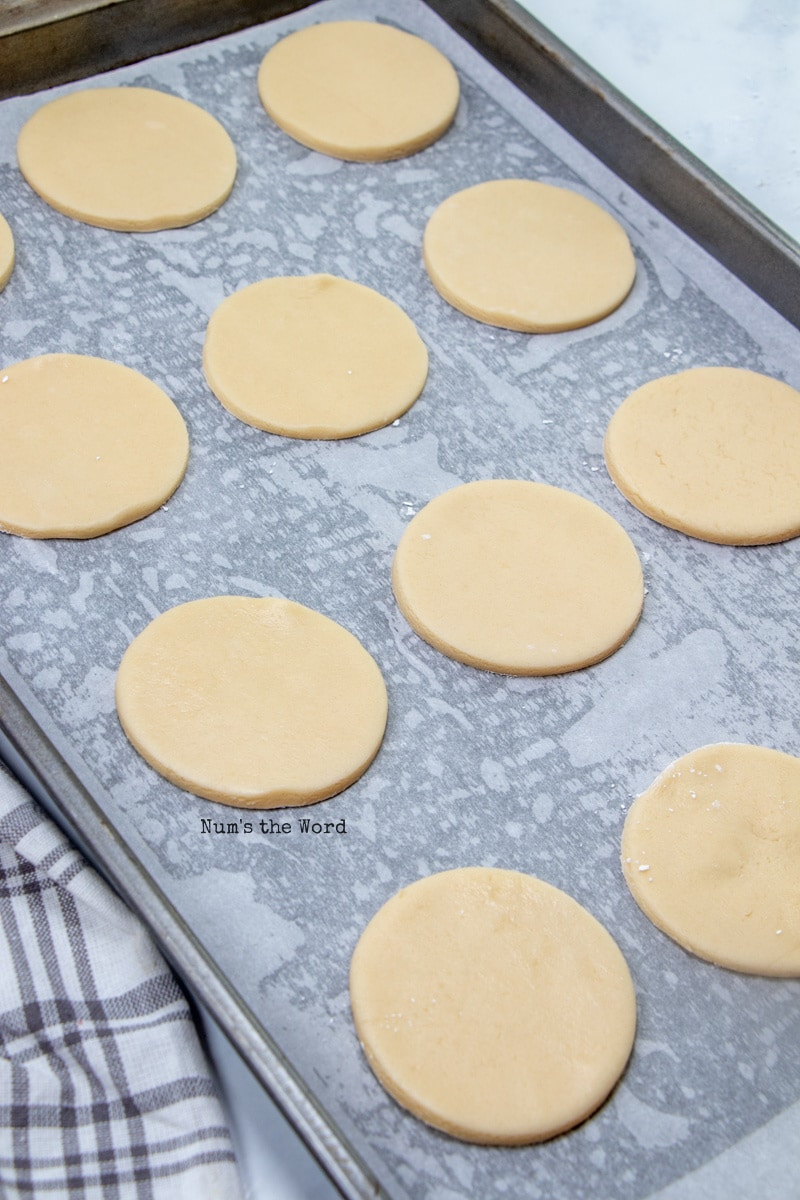 How thick do I roll sugar cookie dough for cut outs?
The thickness of your dough will depend on what you want the texture of your cookies to be.  If you like crunchy sugar cookies, then roll them out to be ⅛ inch or slightly thicker.  
If you like your cookies to be firm but chewy, I suggest rolling them out to ¼ inch thick.  This is my favorite thickness.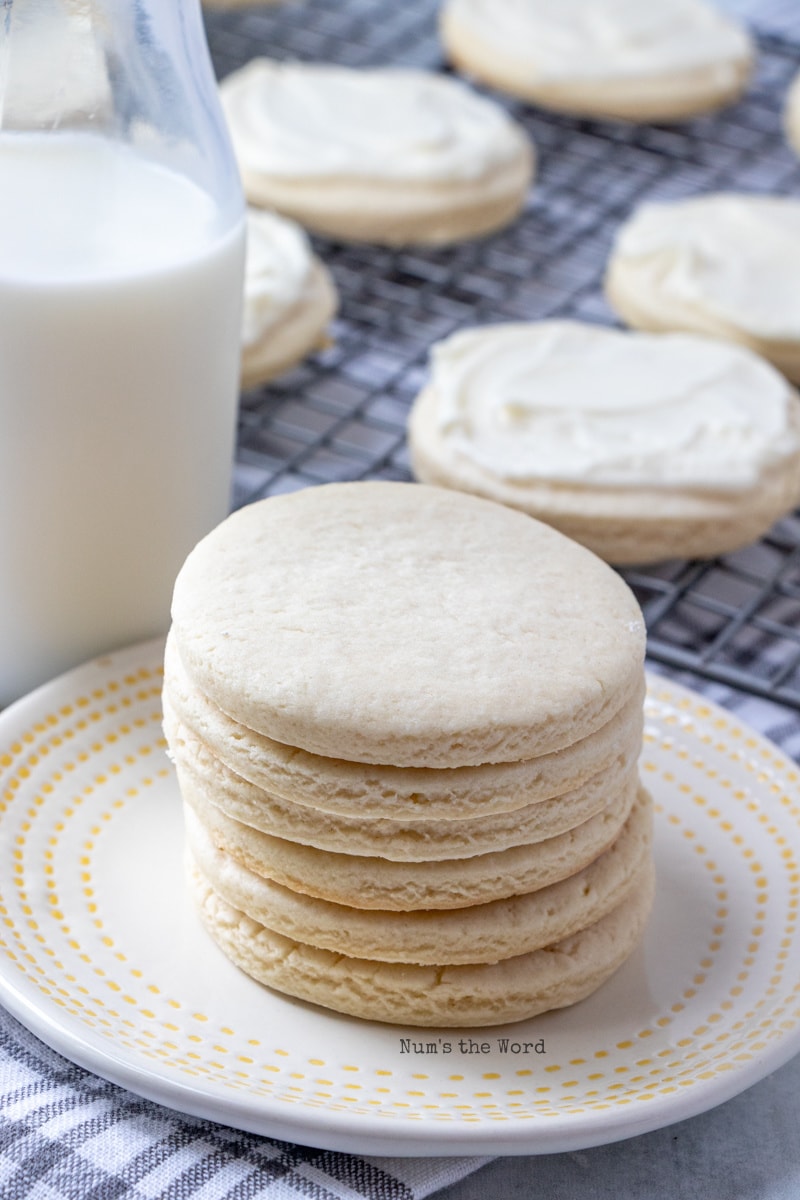 What is the best frosting recipe for roll out sugar cookies?
In terms of "the BEST frosting", that will 100% depend on what you like.  I personally love this Vanilla Buttercream Frosting Recipe on my cookies. A friend of mine prefers my chocolate cookie frosting. 
However if you want a hard frosting that you can make fancy designs with, then you'll want to go with a Royal Icing or Glaze Icing.  Both are pretty easy to make and taste great!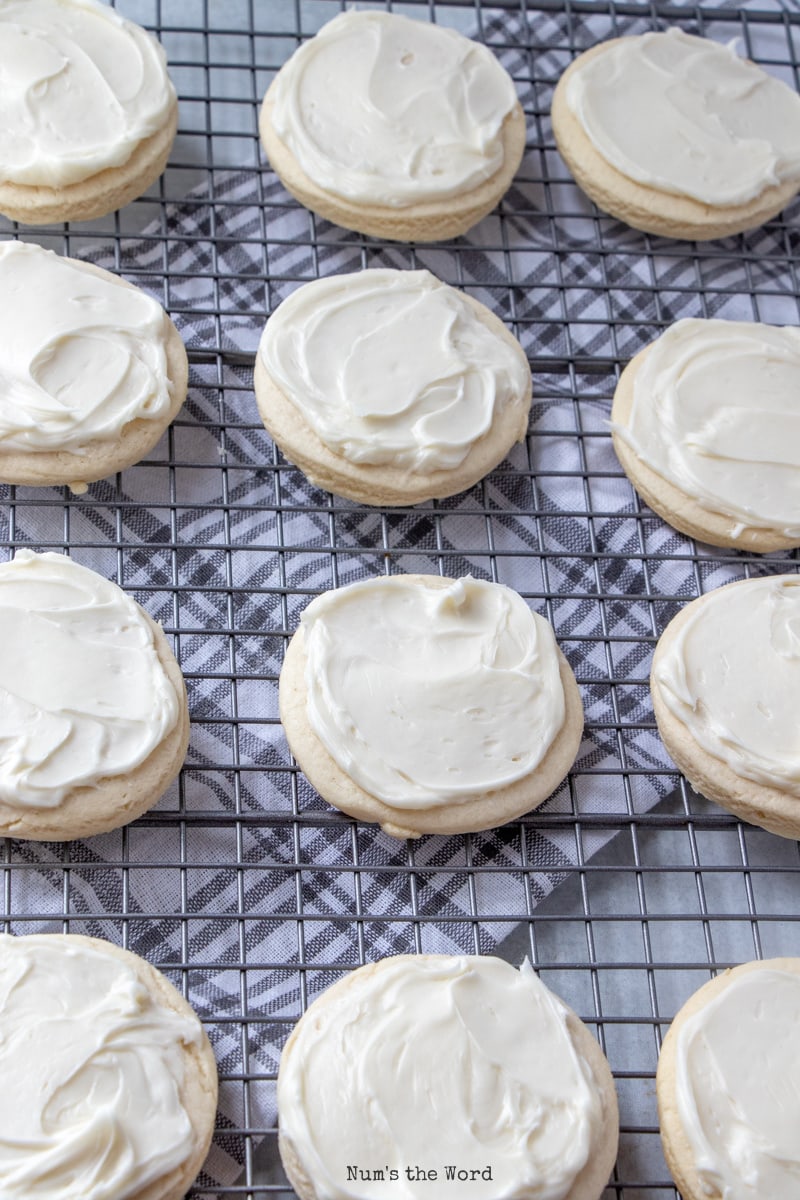 Can you freeze sugar cookies?


Yes you can!  In fact, these cookies taste just as great a month or two later when frozen!  Because this recipe makes a fairly decent batch of cookies [depending on how big your cookie cutters are], I like to freeze about half of them for a later date!  
Bake cookies as directed then place cooled cookies on cookie sheet in the freezer.  After 2 hours you can transfer those cookies into an airtight container or freezer bag.  Use within 3 months.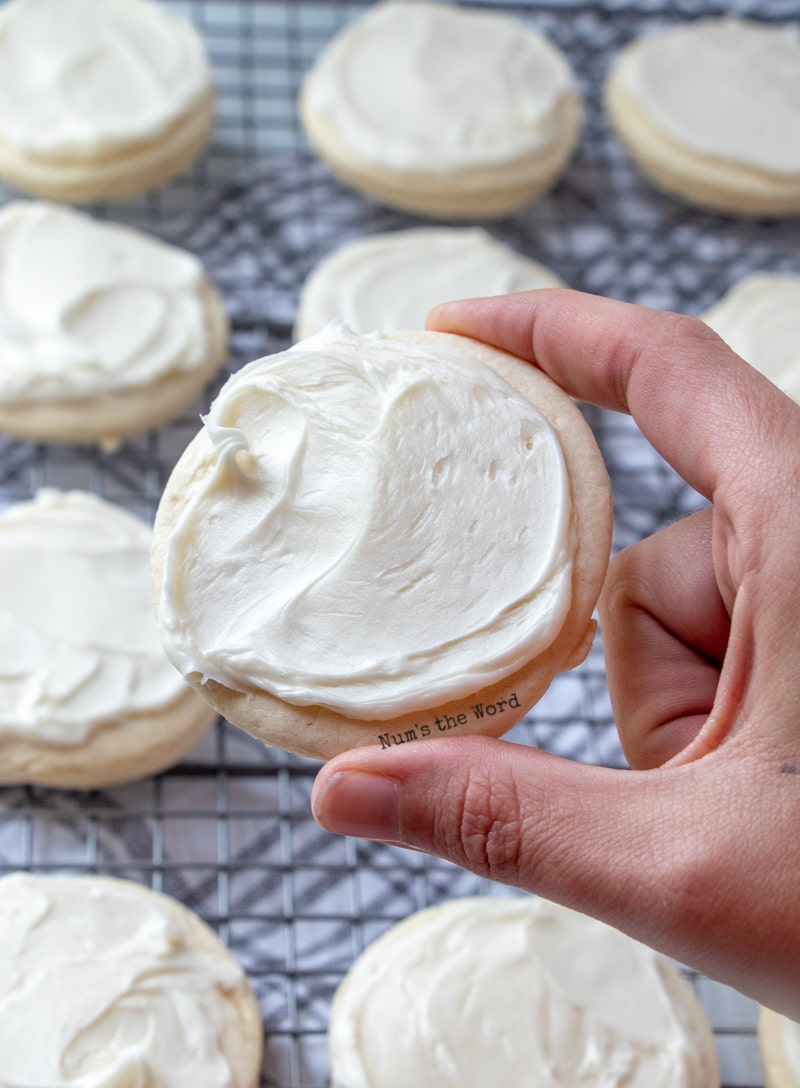 PRO TIP:  If you're making cookies for Christmas, make half of them into hearts and freeze for Valentine's Day!  
PRO TIP: Do not frost before freezing as your frosting may get squished or flake during the freezing/thawing process.  
When it comes to the world's best sugar cookie recipe, I'm going to have to say this one is my favorite!  It won first place in a blind taste and texture test and has been shared on social media hundreds of thousands of times! If you've struggled to find a no chill sugar cookie recipe that keeps its shape and tastes great, try this one!  Don't forget to check out all of Num's the Word's delicious Desserts!
Other Christmas Cookies You'll Love…
Molasses Crinkle Cookies

Maraschino Cherry Cookies
Snowball Cookies
Chocolate Cherry Cookies
Chocolate Drop Cookies
Root Beer Cookies
Gingerbread Whoopie Pies
Holiday Candy Recipes You'll Love…
Peanut Clusters
Homemade Peppermint Bark
Sea Salt Caramels
Fudge Recipe
Pecan Turtles
Yield: 30 Cookies, depending on size
The Best Rolled Sugar Cookies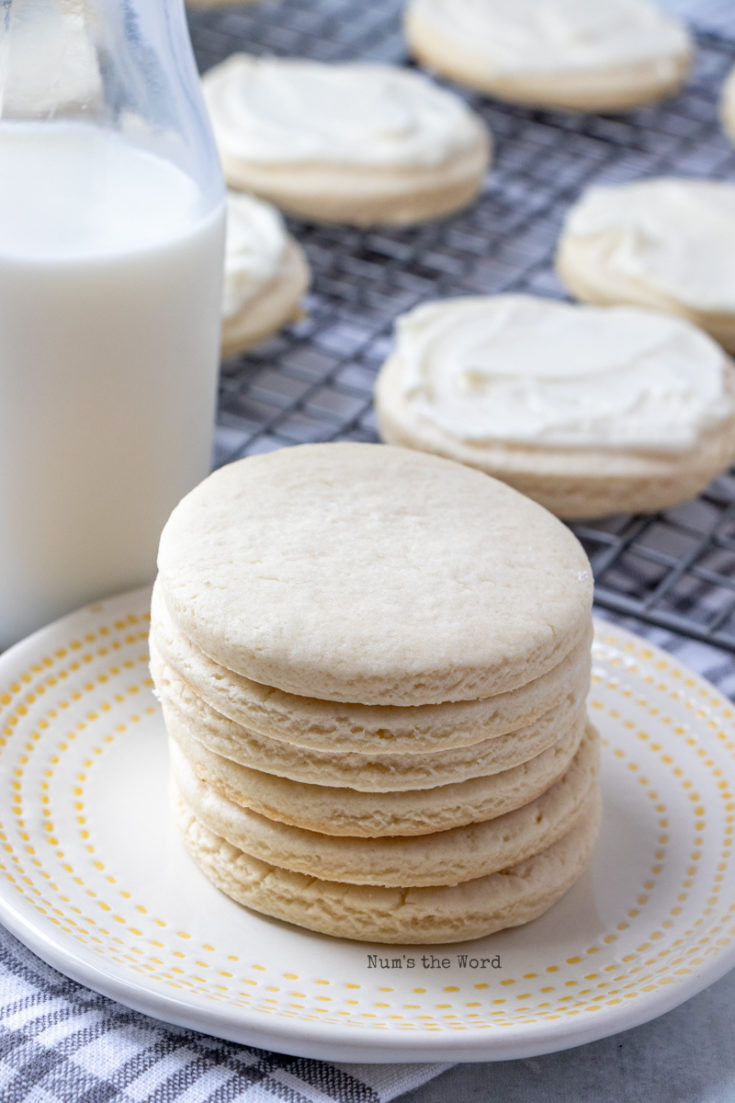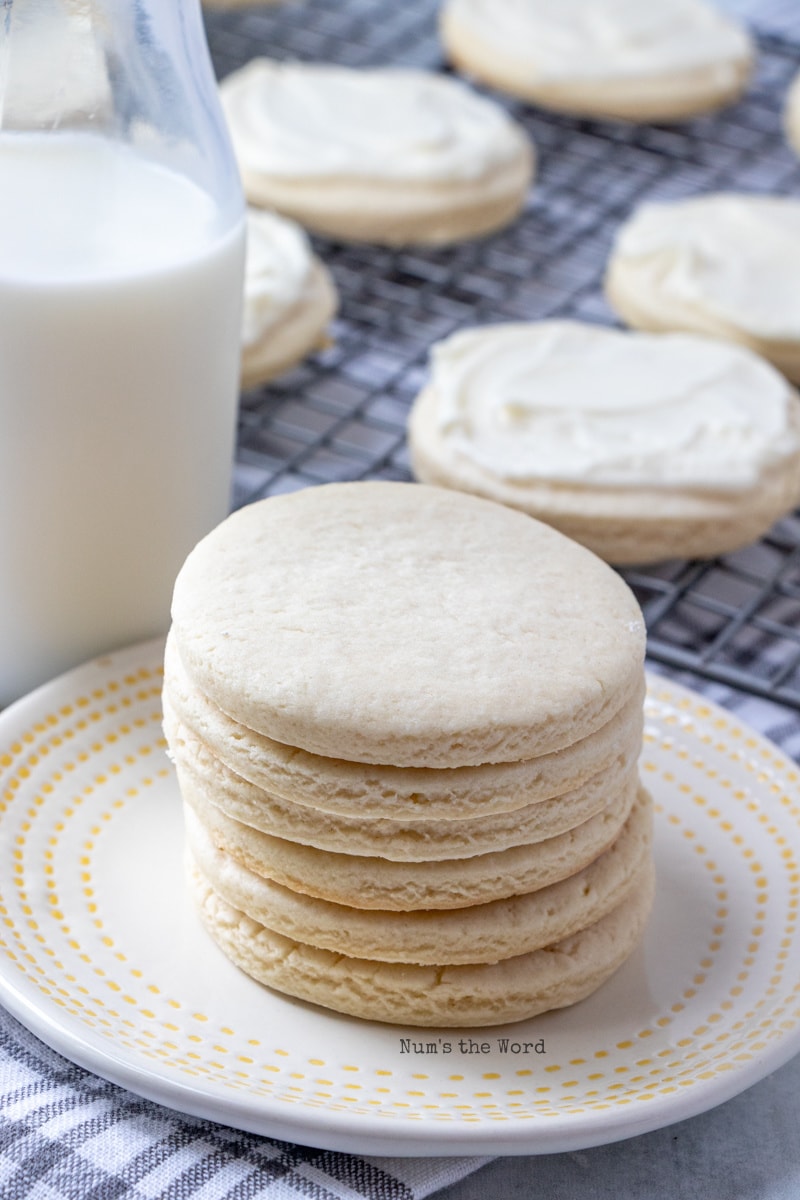 These are The Best Rolled Sugar Cookies and require no chilling and keep their shape! These roll out sugar cookies are easy, and not too sweet! They won first place in a blind taste and texture test!
Ingredients
1 1/2 cup sugar
1 cup salted butter, room temperature (real butter only - no substitutes)
2 eggs
1/2 teaspoon salt
2 teaspoons baking powder
1/2 cup buttermilk
1 teaspoon vanilla
1/2 teaspoon almond extract
4 1/2 - 5 1/2 cups All-Purpose flour (Start with 4 1/2 cups. If dough is super sticky, add more 1/4 cup at a time until just a hint of stickyness. This will greatly depend on your altitude and humidity level)
Powdered Sugar
Instructions
Preheat oven to 400*F''
Prepare 2 baking sheets and set aside. This can be done by greasing them with butter or Crisco, non-stick spray, parchment paper, non-stick foil or a baking mat. Whatever your preferred method is.
Cream together sugar and butter for 3 minutes or until fluffy.
Add eggs and mix again.
Add salt, and baking powder. Blend.
Add 1/4 cup buttermilk, vanilla and almond extract. Blend.
Add 2 1/2 cups flour (1/2 cup at a time).
Add remaining 1/4 cup buttermilk.
Then remaining flour (for a total of 4 1/2 cups). Batter should be smooth, elastic like and slightly sticky. If too sticky, add more flour a little at a time (up to 1 cup - be careful to not put TOO much flour in the dough).
When ready to roll out, sprinkle surface with powdered sugar, not flour. These are SUGAR cookies. Roll them out in sugar! Roll to 1/4 in thickness.
Cut out with favorite shape and transfer to prepared pan.
Bake 10 minutes. Watch carefully as every oven bakes differently. You want the cookies to be a hint of golden under them, not dark golden. Edges should not start to show golden, you'll have to gently flip a cookie to see for sure.
Allow cookies to cool completely then frost.
Notes
There have been questions about the buttermilk. Here are some quick answers.
1) You can use regular milk instead of buttermilk. HOWEVER we like the taste/texture better WITH the buttermilk.
2) If you don't have buttermilk on hand, then in a 1 cup measuring cup, pour 1 Tablespoon of lemon juice. Fill the remaining with milk and pout this into a bowl. Let it sit for about 3 minutes, stir then pour into your batter.
(The recipe only calls for 1/2 cup of buttermilk... but the above is a good ratio, so if you feel like just adding 1/2 Tablespoon to your 1/2 cup of milk, that works too, but I figured you'd be making a double batch to share)
I hope these tips help!
Nutritional Information is estimated, not exact.
Recommended Products
As an Amazon Associate and member of other affiliate programs, I earn from qualifying purchases.


Nordic Ware Natural Aluminum Commercial Baker's Half Sheet (2 Pack), Silver

MOJA® 3D CHRISTMAS Scenario Cookie Cutter Set (Stainless Steel), Snowman, Christmas Tree, Deer And Sled

Royal Icing Mix White, 1 pound Bag
Nutrition Information:
Yield:
30
Serving Size:
1
Amount Per Serving:
Calories:

491
Total Fat:

8g
Saturated Fat:

4g
Trans Fat:

0g
Unsaturated Fat:

3g
Cholesterol:

29mg
Sodium:

131mg
Carbohydrates:

93g
Net Carbohydrates:

0g
Fiber:

3g
Sugar:

14g
Sugar Alcohols:

0g
Protein:

11g
Originally Published: November 29, 2016
Photos & Text Updated: November 14, 2019
Now its time to meet our wonderful co-hosts who have made this giveaway possible.

Starting at the top row we have:
Tammy – My Life Abundant | Heather –The Super Mom Life | Carrie – Curly Crafty Mom | Audry – That Recipe & Munofore | Jodie – Jodie's Touch of Style | Linda – A Labour of Life | Leslie – Once Upon a Time & Happily Ever After | Trish – By Trish Sutton | Susan – Crafting A Family | Debi – Life Currents | Sinea – Ducks 'n a Row | Gladys – Mom to Grandma | Meredith – The Mom of the Year | Kellyann Rohr – This Blonde's Shopping Bag | Andrea – Living On Cloud Nine | Michelle – Our Crafty Mom | Kristin – White Arrows Home | Emily – Domestic Deadline | Kathleen – Our Hopeful Home | Jamie – As For Me and My Homestead & Coffee With Us 3 |Ahna – Ahna @ Hammers N Hugs | Lois – Walking on Sunshine Recipes | Christy – Ice Cream N Sticky Fingers | Donna – Blog by Donna | Beverly – Eclectic Red Barn | Lisa – Blogghetti | Erlene – My Pinterventures | Janelle – Num's the Word |Tammy – Creative K Kids
Please stop by and say hi to these wonderful ladies and their blogs.
The giveaway will end at 11:59pm on November 27th on the day beforeThanksgiving. You will have 48 hours to respond to the email claiming the prize. If you respond right away, we will get you the gift card code promptly so that you can shop with it on Black Friday! If we don't hear in 48 hours, we will have to choose another winner.
Open to anyone who can receive gift cards from Amazon, Target, Walmart, Kohls, and Starbucks
a Rafflecopter giveaway